How can I achieve that lit from within glow?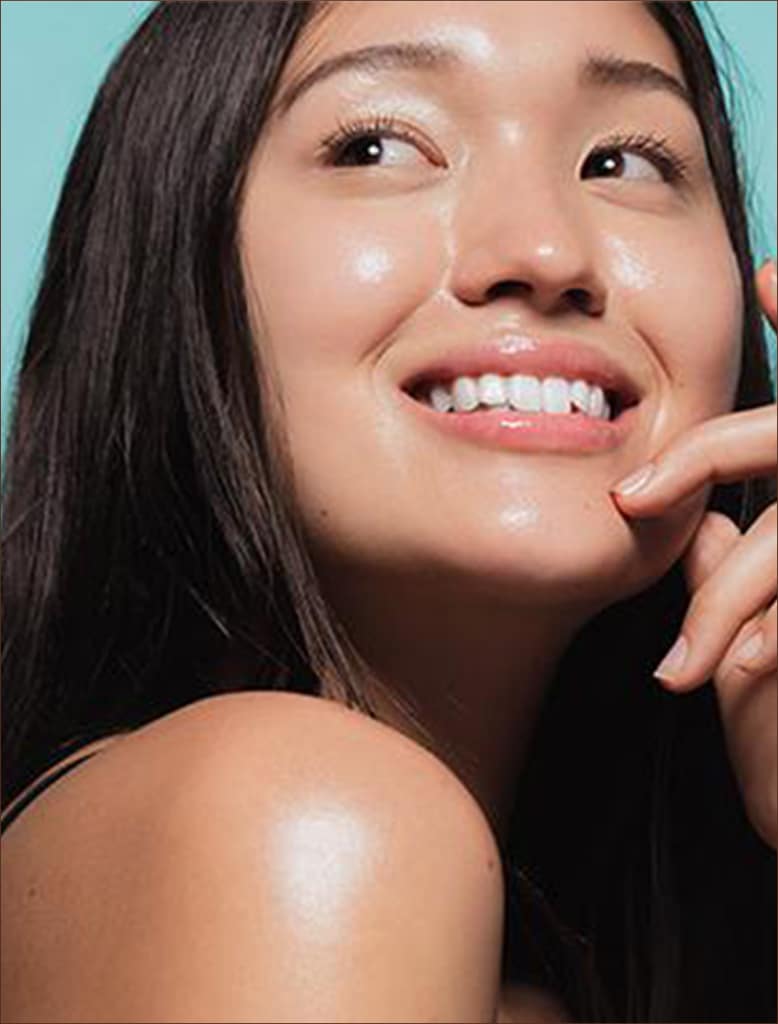 "You're glowing" has got to be one of the best compliments one can receive so it is no wonder we are now trying to emulate that lit from withn glow all year round.
The beauty industry jumped onto the trend, resulting in a plethora of product on the market promising to give instant radiance, the healthiest skin yet with ingredients that feed and nourish the skin.
As Dr Zamani says "Although healthy, glowing skin truly comes from within, there are of course ways you can fake it with skincare and makeup. The one beauty look that will never date is glowing skin." The MZ glow is at the heart of MZ Skins ethos; reveal, enhance, protect.
What does Dr Zamani recommend?
For a longer-lasting glow, leading dermatologists have seen a rise in radiance-focused beauty treatments. "Many of my patients want to have their skin glowing without having to use makeup and highlighters to achieve the effect.
Understanding what my patient and the consumer needs has been essential in curating an efficacious and beautiful feminine brand.  I have an arsenal of treatments in my office to help my patients achieve the best natural version of themselves and those results need to be maintained with a consistent skincare routine.
My consumer, much like myself, wants to have that no foundation, foundation look which translates into clear skin; clear from acne, pigment, or redness.  Products that promote collagen production and prevent further damage from impacting their skin is essential.
Most of my clients lead busy, full lives and need products that are simple to use, make them feel beautiful while doing something good for their skin."
My most recommended professional treatments, and at home alternatives, for a skin glow are:
Peels
Look for AHA/BHA/PHA peels that will exfoliate the skin and help release the top layers of dead skin cells allowing for the more radiant new cells to come through.
At home: MZ Skin Cleanse & Clarify Dual Action AHA Cleanser formulated with a blend of Alpha Hydroxy Acids and Fruit Enzymes to cleanse and exfoliate without irritation for a refined skin texture. The perfect prep to reveal smoother, brighter, and more radiant skin.
Vitamin A-based products
Vitamin A derivatives such as retinoids and retinol will accelerate cellular turnover and are fantastic for helping to achieve glowing skin. "These products not only help push more youthful-looking cells to the skin's surface, but they also send cellular signaling to prompt collagen formation improving the skin's texture and minimising the appearance of fine lines and pores."
At home: MZ Skin Retinol Skin Booster is clinically proven to reduce fine lines by 43% after 8 weeks. Formulated as a lightweight night serum, it utilises the skin-renewing power of retinol to re-build, smooth and repair the skin's surface. Encapsulation helps target skin cells where it would provide most benefit and enhances skin penetration.
Microdermabrasion
This professional treatment exfoliates at a deeper level (similar to a peel), with a mechanical handheld device that buffs away the upper layers of the skin.
Sunday ritual, at home: MZ Skin Radiance & Renewal AHA Refining Mask deeply exfoliates to help clear congested skin.  A 8.5% concentrate fruit acid complex stimulates cell turnover, refines pores and helps to eliminate pigmentation.
Fractionated CO2 laser
This is the gold standard for delivering radiant glowing skin. It requires a few days of downtime, but the effects are worth it: brighter, more even skin tone; improved texture; fewer fine lines and wrinkles; reversal of sun damage and minimised pore appearance.
With no down time and instant glow: MZ Skin Lift & Lustre Golden Elixir Antioxidant Serum has a high concentration of Plant Stem Cells (Marrubium Vulgare Meristem Cell Culture) to fight free radicals. With light reflecting pigments it is also formulated to give instant radiance and can be pressed into the skin under or over make up to the high points of the face such as top of the cheekbones, or bridge of the nose.
Lit-from-within skin
As Dr Zamani has always claimed, looking after your health is the holy grail for a real glow.
Stress causes a chemical response in your body that makes skin more sensitive and reactive. It can also make it harder for skin problems to heal. If you have you ever noticed that you break out more when you're stressed, this is because stress causes your body to make hormones like cortisol, which tells glands in your skin to make more oil. Stress can aggravate psoriasis, rosacea, and eczema. It can also cause hives and other types of skin rashes and trigger a flare-up of fever blisters.
The holistic approach to a lit from within glow…
Dr Zamani is an advocate of looking at things holistically and states that our environments can absolutely cause premature ageing. "Smoking, UV exposure, lack of sleep and high stress levels as well as not eating well will all accelerates the breakdown of collagen or impede new collagen production.
Good skin is a result of intrinsic and extrinsic factors. Genetics, including skin type is something we cannot control. It is thought however that only a small percent of ageing factors have a genetic background. Moreover, there are a host of things we can control.
For instance, good diet and hydration, sleep, exercise, maintaining low stress levels, and social factors (smoking/drinking/drug abuse) can all inhibit our glow.
She says "I personally am a big fan of eating our nutrients rather than using oral supplements but if you cannot manage a wholesome diet filled with fruits, veggies, and healthy fats, then supplements can be helpful.
Sleeping well is very important to the skins natural ability to restore itself to radiance. Beauty sleep is not a myth!"
Skin care tools like Gua Sha which are best described as a hands-on mix of massage and workout, help release tension (amazing for headaches and tight jaws) and leaves skin instantly more supple, glowing and healthy-looking.
Health retreats, have seen a rise in burnt-out, exhausted clients seeking to reverse the effects of daily stress. Re-energising programmes focus on improving the health of the gut, by reducing acidity and toxins in the body. It is a cleansing of the intra- and extracellular matrix of the body, like cleaning a house or rebooting a computer. So, after this process the 'fog' lifts and the body function is improved. This optimum state is the ultimate foundation to achieving any glow – skin, mood, aura, you name it, it has to start from within to have any staying power.