Is the Zoom era and blue light ageing me?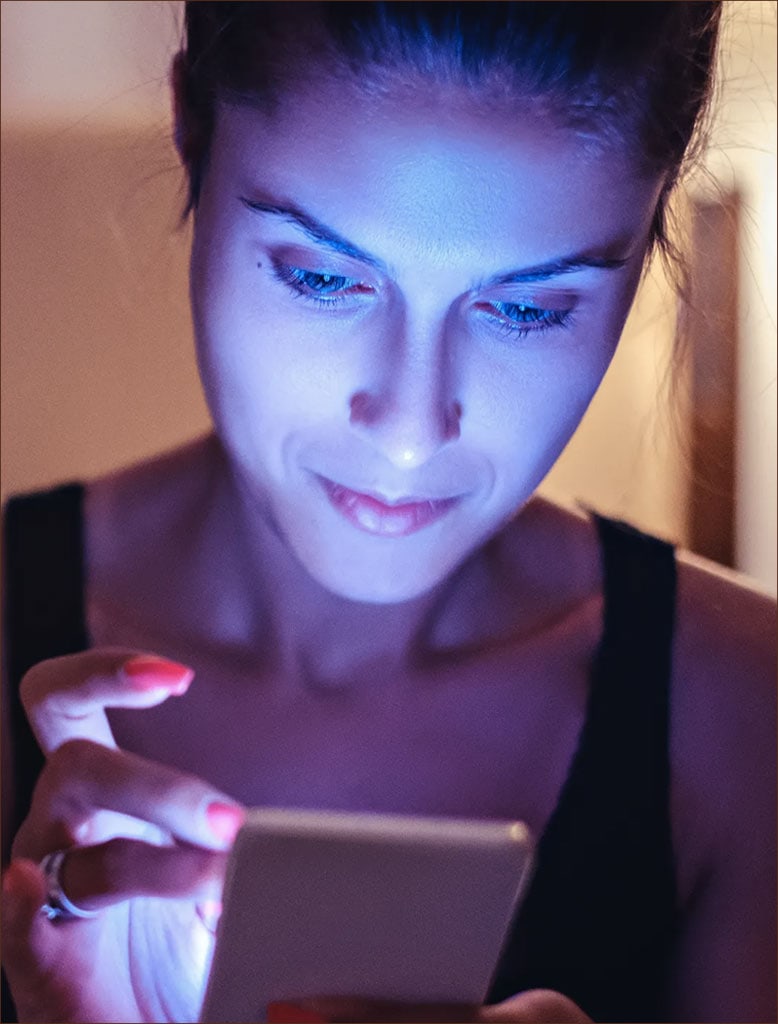 In this lifestyle phase of becoming increasingly attached to our digital devices, the research confirming that blue light (emitted from the sun and our digital devices) is bad for our skin is pertaining, more than ever.
"We are now seeing increasing data on the potential long-term effects of visible light, in particular blue light, on our skin," says Dr Zamani. So much so, laptops and smart phones have been labelled the silent agers of our generation!
Studies show that millennials check their phones an average of 150 times a day, and a 2019 report found that most people with a smart phone, on average, spend four hours and 15 minutes on them per day. Now with working from home, conversations over WhatsApp and increased online shopping needs, we are certainly getting significantly more blue light exposure than we used to from the sun alone.
So, what exactly is blue light doing to my skin?
Blue light penetrates the skin, generating reactive oxygenation, which leads to DNA damage, thereby causing inflammation and the breakdown of healthy collagen and elastin, as well as hyperpigmentation and melasma.
In response to this, there has been a wave of blue light fighting products to hit the beauty market. These have an abundance of antioxidants to fight free radicals and inflammation. Pollution, UV radiation, smoking, and processed foods can also accelerate the formation of free radicals thereby increasing their numbers. Some studies have shown that topical application of vitamins and antioxidants can be more effective than taking supplements.
Is blue light all bad?
Exposure to blue light during the day has some health benefits, like boosting alertness and elevating mood, studies have shown. However, sunlight is the main source of blue light and as we all know well, with that comes environmental damage which leads to premature skin ageing. Acne sufferers may even use short bursts of blue light via LED as a skin treatment, which is recommended by Dr Zamani. It mimics an anti – bacterial effect and reduces inflammation.
What skincare would Dr Zamani recommend for repairing blue light damage?
Vitamins C, B and E are important antioxidants for anti-ageing because of their ability to penetrate the skin. In concentrations of 5 – 15%, vitamin C induces the production of collagen and helps inhibit the enzyme responsible for breaking down collagen. Its antioxidant benefit is synergistic with Vitamin E.
MZ Skin's Brighten & Perfect 10% Vitamin C Corrective Serum is formulated to activate collagen production, protects against premature ageing, and reduce the effects of UVA, UVB and blue light. This peptide-rich formula helps control melanin production to guard against hyperpigmentation and age spots. Perfect too for a post summer fight against pigmentation.
Niacinamide (B3) helps regulate cell metabolism and regeneration and its use helps improve skin elasticity and pigmentation. MZ Skin Vitamin Infused Facial Mask is rich in Niacinamide and will soothe any irritation using a cocktail of anti-inflammatory ingredients including Liquorice extract and antioxidants such as Green Tea, Aloe leaf, and the aforementioned vitamins C and E.
Vitamin E is a potent anti – inflammatory to that soothes the skin and helps accelerate skin epithelialization and contribute to photo protection. MZ Skin Soothe & Smooth Collagen Activating Eye Complex is rich in E, or Tocopherol as it is less commonly known to protect the delicate eye area from blue light.
MZ Skin Lift & Lustre Golden Elixir Antioxidant Serum has a high concentration of Plant Stem Cells (Marrubium Vulgare Meristem Cell Culture) to fight free radicals. With light reflecting pigments it is also formulated to give instant radiance and can be pressed into the skin under or over make up to the high points of the face such as top of the cheekbones, or bridge of the nose.
MZ Skin's Anti-Pollution Illuminating Eye Masks and Anti-Pollution Hydrating Face Masks also contain Lumicease to protect from blue light. This ingredient is obtained through biotechnology from one of the most radiation-resistant microorganisms, it activates the epidermal photosensors and prepares, protects and repairs the skin from solar and artificial blue light-induced damage. In addition to this they both also contain Liquorice Root Extract and Soy Phyto placenta, two more anti-inflammatory ingredients.
As mentioned above, in addition to antioxidants, LED or light emitting diode phototherapy combines clinically proven wavelengths of light to deliver safe and effective results to treat a multitude of conditions with no downtime or discomfort. A course of treatments help to stimulate collagen production as well as the repair response. The purpose is to help accelerate cell renewal and can also help improve several skin concerns. It can be used on normal skin, but it is effective in helping heal skin after in office procedures (such as peels, lasers, micro needling, PRP) as well as post facial surgery. It is safe on all skin types. LED phototherapy uses light from the visible and often infrared spectrum to stimulate the cellular response to regenerate faster through a process called photo biomodulation.
LED masks are not similar to UV or blue light, the wavelengths are much longer which stimulates cell repair rather than damage. Results depend on the number of consecutive treatments done.
The MZ Skin Light Therapy Golden Treatment Device is unique in that it features five light settings, all which function at different wavelengths to treat a plethora of skin concerns. The red light setting specifically has profound anti-ageing benefits, it stimulates collagen and elastin production and strengthens skin. This light setting also reduces inflammation, heals blemishes, repairs sun and blue light damage, and improves scarring.
What other methods do you suggest for protecting yourself from blue light?
You can buy a blue light screen shield for your mobile phone or tablet to protect your eyes and skin from the effects of blue light, or simply put your phone on its night mode setting. If you do not have a blue light shield, try holding your mobile device at arm's length. Supplement wise, you can take vitamins C and E and Zinc as antioxidants can diminish the negative effects of blue light on the skin-as do skincare products containing lutein. Overall, as discussed, supplementing skincare with antioxidants will benefit the skin.
The skin does naturally contain antioxidants such as vitamin E but these are used up when the skin is exposed to excess free radicals. Applying topical antioxidants in the form of skincare, as well as eating a diet rich in antioxidants can boost our skin's defence against oxidative environmental damage.
Moreover, there are a host of other things we can control to minimise blue light damage and oxidative stress; Sleep, exercise, maintaining low stress levels, not smoking, or drinking alcohol. Dr Zamani is personally a big fan of eating our nutrients rather than using oral supplements but says "if you cannot manage a wholesome diet filled with fruits, veggies, and healthy fats, then supplements can be helpful."
Sleeping well is especially important to the skins natural ability to restore itself and counteract blue light and free radical damage. Beauty sleep is not a myth!
Exercise can help eliminate toxins from the body, improve circulation and decrease stress levels. Smoking is one of the fastest ways to age the skin, drinking can decrease circulation and increase puffiness, disrupt sleep, and dehydrate the skin.
If lockdown isn't a perfect time to socially distance ourselves from our devices, we perhaps can use it as good time to create other healthy lifestyle habits and lather our skin in antioxidants to protect from blue light.