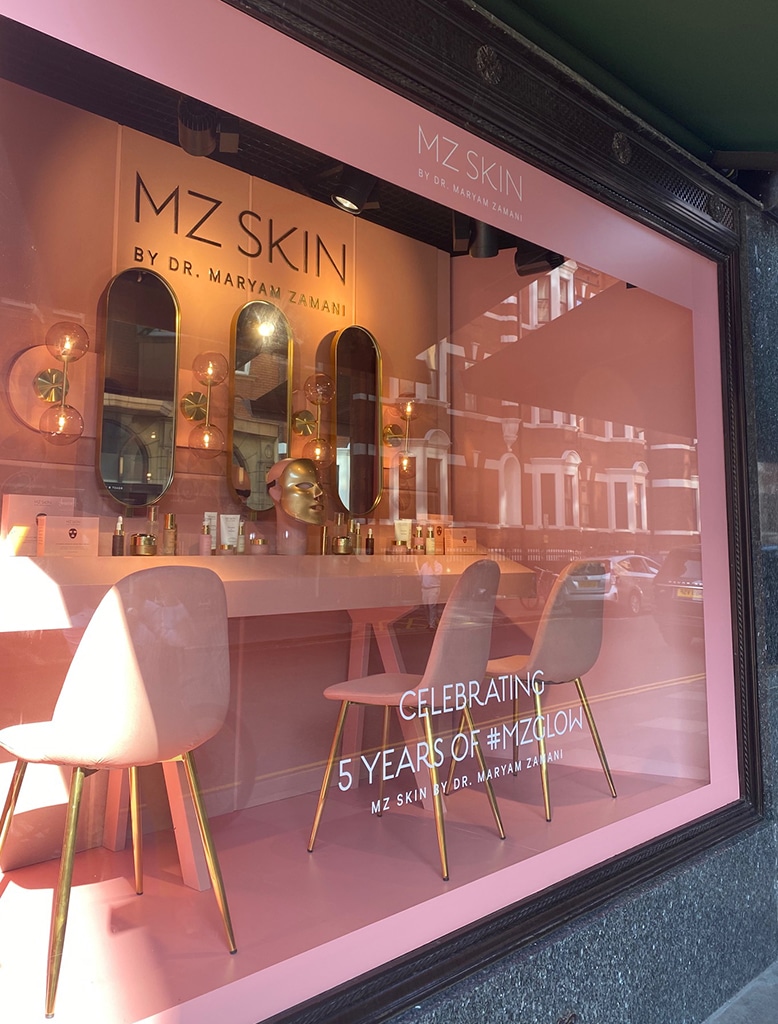 In September 2016, MZ Skin launched in Harrods Knightsbridge, it's first retail partner; it was a dream come true for Dr Maryam Zamani.
Five years on, we're celebrating this milestone with Harrods by launching an exclusive limited-edition gift set and turning heads with a beautiful window display.
Here we discuss why Dr Maryam Zamani first created MZ Skin and how she has established the brand to become a firm favourite, globally.
What made you want to start MZ Skin?
After completing my ophthalmology training, I worked for only one year before relocating to London. I was doing some aesthetic work and very much enjoyed it. As I needed time to have my American Board certified transferred to the equivalent in the UK, I decided to embark on an oculoplastic and reconstructive surgery fellowship to gain greater experience and training. That was when I became interested in hyaluronic acid fillers, doing research for their aesthetic and reconstructive purposes. There after I became interested in learning more and did a Dermatology Course with Cardiff University for a year followed by another oculoplastic fellowship focused on eyelid and facial surgery. I wanted to combine the surgical with the non-surgical but quickly realized skin is the canvas and without a strong canvas, results are not optimal. It's been a long but very interesting and rewarding road to developing MZ Skin to help create that strong canvas and foundation to maintain and attain one's best skin and aesthetic at any age. I have tried to create a treatment regimen that also incorporates home rituals to help give skin that extra boost with highly efficacious ingredients.
How would you describe MZ Skin?
A modern and inclusive product range, backed by science, with clinically proven efficacy that also feels beautiful to use.
MZ Skin was born with the three pillars: to Reveal, Enhance and Protect our skin.  We believe the consumer wants to use products from someone who has the professional expertise and also understands their needs.
What are 3 words to best describe MZ Skin?
Luxury, concise, and intelligent. I say intelligent as it is scientifically backed, and clinically trialled.
I always wanted the products to be easy to use but also have gorgeous sensory components. I do not believe you need lots of different products but rather specific, efficacious ingredients that work synergistically together.
When you were younger what did you want to be?
Well I think it was a natural progression into what I do, really. I have always loved skincare since my teens, my mother would buy my Lancôme. It became part of my nightly ritual to relax. That continued through college and med school. By then Shiseido was my go-to skincare. I would study, workout, come home, shower, do my nightly skincare ritual, and go under my duvet. Then I moved to London and doctor brands were starting to pop up. I started using them but felt disinterested as I felt I was medicating my face and it lost its ritual aspect. I then found the beautiful brand Natura Bisse which inspired me to work with my own chemist and start creating my own formulas to supplement my existing routine. My husband actually was the one who put the idea into my head and said, well if you like it, then why don't you try your own complete formulations. That was late 2013. In early 2014 I found a French formulator in London and together we started making my creams. I would ask my patients and friends to try them out and tweaked them as I went along. That is how MZ Skin was born!
What has been your favourite career moment to date?
I think the day I launched exclusively at Harrods late September 2016 will always be remembered fondly. I literally walked in the employee entrance with bags of products before the store opened, along with the Harrods team and placed the products on my newly minted MZ Skin display. It was a pinch me moment, a true Cinderella type moment, and I was beaming with pride. Later that day I walked through the store with my family and my daughter, who was 5 at the time, and she proudly told anyone who would listen, 'that's my mommy's'. I will never forget that moment.
What makes MZ Skin the best of the best?
MZ Skin is a concise, precise skincare range with potent actives and intelligent formulations to reveal, enhance and protect the skin while also providing a beautiful sensory experience. It is free from sulphates, artificial fragrances and silicone. Skincare products have also been clinical trialled for efficacy. It is also one of a handful of medically endorsed and scientifically proven skincare created by a woman for women.
Who is the favourite person you have worked with?
I have a lot of really fabulous people around me who I feel really bring me up. They are really on top of their game. I actually find this a really hard question because I love being around people who have gone out and taken a risk and said: 'You know what, I'm going to try this' and then making it work and then sometimes having it explode is just phenomenal. Inspiration comes in the strangest of forms and surrounding yourself with people who are amazing just lifts everybody up.
What is the best piece of advice you have ever been given?
When I was about to embark on my private practice in Washington, DC there were many who told me that I shouldn't do it, that the area was too saturated.
I asked the advice of my mentor and he said, there is always room for one more, so if you want to, do it. You will make it happen.
He was right and I still think that today; There is always room for everyone to succeed so if you have the passion, just do it. I sent him a message just recently to thank him, again.
Which is your favourite skincare product?
Just one!? That is a difficult to say, I have many. Skincare is the foundation to keeping skin functioning at its best and therefore looking its best. Conditions such as pigmentation, and inflammation are a result of internal and external causes. While coming in office to have tweakments is an important part of optimizing skin function and beauty we need to have a regime to prevent, combat and improve issues at home.
I think of my reveal, enhance, protect program as one to streamline what is essential for the skin to give radiance. So, I religiously use MZ Skin Cleanse & Clarify to first exfoliate the skin, followed by Brighten & Perfect which has a peptide-rich formula to help control melanin production to guard against hyperpigmentation and age spots. Tint & Protect gives sun protection, which is so important and a little coverage to conceal any blemishes.
Next steps are make-up; I love Tom Fords bronzer, a little Nars Orgasm Blush, Mascara, lip balm, quick brush of the hair or a ponytail.
Who is your ultimate business inspiration?
There are so many fierce women that I admire and learn a bit from each of them. The goal is to inspire others to give it their best and to have a bit of fun along the way.
What are 3 words to describe yourself?
Oh goodness, well I would say hard working, driven and positive. Style wise, I think I am generally a classic with a little twist; often I am in a long skirt or dress and trainers.
What is the secret to success?
I feel that I have been extremely fortunate and lucky in the way my career has progressed so organically. I have done what I love and worked incredibly hard to be and do better.
I think attitude is always crucial-I definitely have a can-do attitude, solutions driven. I think that anything you want is achievable, and that there is ALWAYS a way, even if you cannot see it immediately.
Ultimately, I have put my heart, soul and a whole lot of sweat into it all. Plus, I have had the never-ending support and guidance from my husband and family. Their support, and particularly my husbands, has given me the wings to fly.
What advice would you give to future female generations?
I would say so much! Surround yourself by people you admire. Ask mentors for their opinions, don't be shy-what is the worst that can happen? Put yourself out there-although admittedly, that is something I find very difficult to do. I am trying more and more to do this as you never know who you may meet that may change your perspective on what you are doing. If you have an idea, constantly try to analyse it, make it better. Trust your instincts, they will serve you well! Make sure you have the best support you can, because this will make everything so much smoother.
Keep true to yourself, follow your own path and try not to compare your journey with someone else-you have no idea what their situation was, or is.
And finally, BELIEVE in yourself!!
What are you grateful for?
My beautiful family – I have two adorable children, Lily and Casper. My husband is so supportive, and I feel so grateful to have that relationship.
I also feel hugely privileged and grateful to have the ability to hopefully encourage, support and maybe inspire others.
What is one thing everyone should do?
Have faith in yourself, even when others may not. Find a mentor, a good mentor that you look up to and admire to guide you for honest support and guidance. One day you too will be a mentor for someone else. Life is a beautiful journey and you never know where your path may lead you. I would never have imagined back when I was in med school that I would be in London, with a successful and fun Aesthetic practice, embarking on a different path of entrepreneurship. My journey has been an evolution, just like yours will be.
What is the best aspect of having your own business?
I love to be able to make people feel better about themselves. I love how the tweakments I offer help to give patients a real confidence boost.
What is the hardest part of having your own business?
There have definitely been struggles along the way but I have a 'can do' mindset and think sometimes stepping away & reflecting will show you the path to choose. It's always a juggle with a work-home balance especially as a self-funded start up. I did not realize when I embarked on this journey that creating the actual creams would be the easy part. The business plan and implementation was difficult as every step I was new territory that I needed to teach myself. As this has been a self-funded project, I had to choose wisely and minimize expensive mistakes. For every aspect of development, I met and spoke to numerous people before I found 'the ones' to incorporate into the MZ Skin team.
What is something you're currently working on?
It is always evolving! I always want to have a strong foundation to grow on, building a team who believe in, and love the brand. We are of course expanding into different regions. I would love to focus a bit more on the states, as it all really started there. But opportunities come in all ways and we look forward to embarking on them as they come.
We have some very exciting launches coming up in time for the Holiday season – watch this space!
I've also just opened my brand-new The Clinic on the Kings Road in Chelsea. This has been a dream true to combine my clinic treatments and MZ Skin all under one roof.
What will MZ Skin look like in 10 years' time?
I envision an ever evolving and growing business. I want a concise, precise range of products to target specific needs and concerns so customers and pick and choose depending on their skin concerns. But I want my skincare to stay true to its ethos of clean, simple beauty rituals to reveal, enhance and protect the skin. The best routine is the one you can consistently do. It has to be easy. I do think that at home treatments are the way forward in our ever-busy lifestyles and I hope to be able to deliver intelligent skincare to help along the way.