Bio-Identical Human Collagen – newest innovation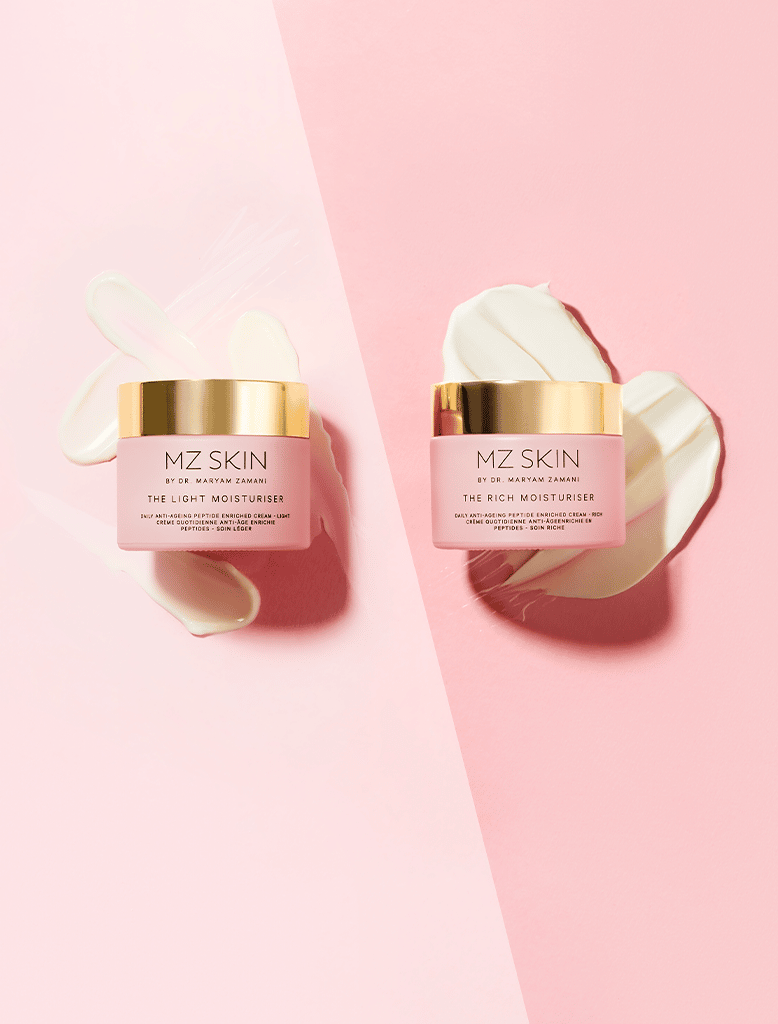 The latest additions to MZ Skin's innovative collection – The Light & Rich Moisturisers!
Combining hydrating, brightening and skin-firming actives, and the first ever bio-identical human collagen designed for topical skincare, the results-driven complex is available in both a lightweight and a rich cream variation to suit all skin types.
Multi-molecular hyaluronic acid delivers an instant burst of hydration and penetrates deeply for long-lasting results. Innovative, first-of-its-kind bio-identical human collagen plumps, firms and lifts. Peptide complex is stabilised with infused gold particles to maximise reduction of the appearance of fine lines and wrinkles. Antioxidant-rich cotton stem cells repair and protect against free radical and UV damage. Clever encapsulated microalgae use intelligent melanin modulation to reduce pigmentation while preserving the skin's natural skin tone.
The Light Moisturiser is light and fast-absorbing, while The Rich Moisturiser is rich and replenishing! Both moisturisers are primed for daily use and feature 5 state-of-the-art actives in combination with six natural oils and extracts for targeted and effective results.
INGREDIENT HIGHLIGHTS:
+ MULTI-MOLECULAR WEIGHT HYALURONIC ACID
Delivers instant and long-lasting hydration. Small molecules demonstrate a clear advantage in quickly penetrating and moisturising the skin. Increases elasticity up to 12.74% after 30 minutes, increases skin smoothness up to 7.57% and 6.16% after 30 and 120 minutes and decreases wrinkles by -6.81% and 4.53% after 30 and 120minutes.
+ ENCAPSULATED MICROALGAE
Innovative melanin modulation to brighten and even skin tone. A blend of green and brown microalgae fractions biotechnologically selected and encapsulated in liposomes for enhanced delivery to the skin dramatically reduces the intensity of skin age spots in just 28 days and preserves the natural skin tone after 28 days through the inhibition of the overproduction of melanin.
+ BIO-IDENTICAL HUMAN COLLAGEN
The first ever vegan collagen designed specifically for topical skincare increases skin elasticity by 107% after 4 weeks, decreases skin redness by 47% after 4 weeks, increases skin collagen by 7% just after 2 weeks, decreases wrinkles by 10% after 4 weeks and delivers powerful results without irritating the skin.
+ COTTON STEM CELL
Protects against photo-induced ageing by complementing and boosting the skin cells' own defence mechanisms. Helps repair and protect against free radical and UV damage.
+ PEPTIDES
Matrigold complex contains peptide actives infused with gold particles which creates a shield protecting the peptides from degrading enzymes and enhances skin penetration of the peptide through different skin layers.
Shop The Light & Rich Moisturisers here.
To receive bespoke advice from our skincare experts – book now!