Your skin, SPF and the benefits of Vitamin D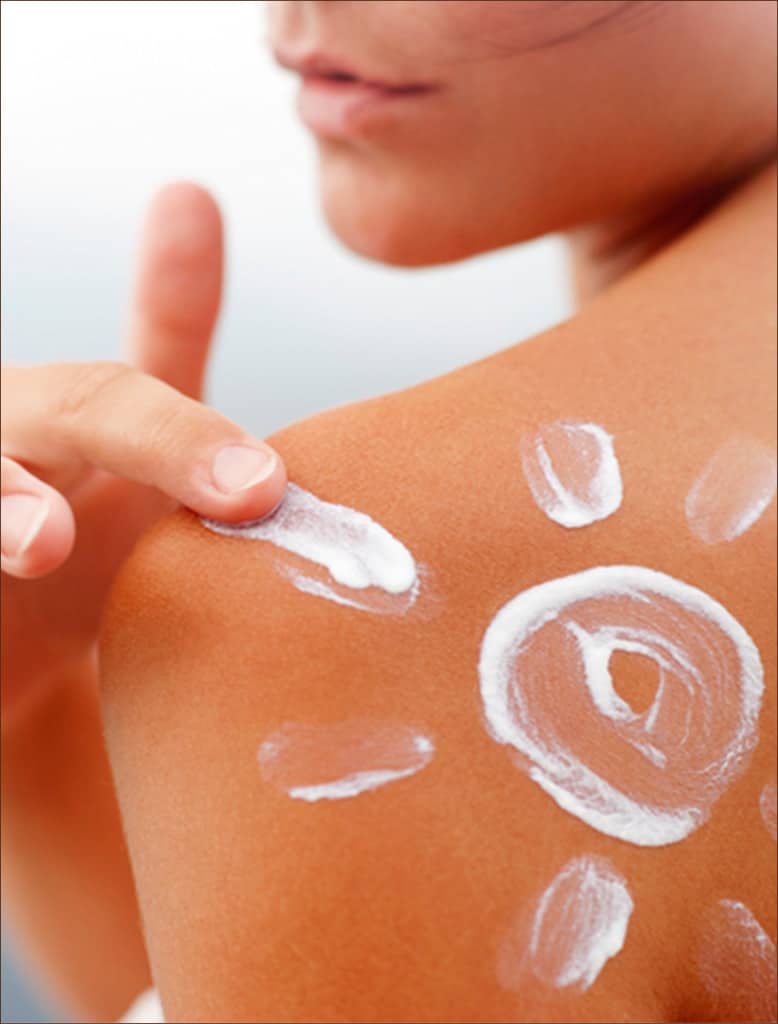 We know that our bodies need vitamin D for healthy bones and immune systems but how do you balance those benefits of soaking up the rays with the other more adverse effects?
The skin uses UVB rays in a series of conversions to create Vitamin D. Vitamin D levels are determined by where one lives, air quality (the better the quality, the more UVB), skin colour (darker skinned individuals need more UVB than lighter skinned ones to generate the same amount of Vitamin D), body weight (body fat prevents absorption of Vitamin D), and age (it takes more UVB in older individuals).
As Spring turns to Summer, our attention will also shift to the sun protection factor we wear. It also raises questions as to what factor is best, how do I wear it with make up and how much is enough? Here Dr Maryam Zamani answers some of those frequently asked question so we can enjoy sunnier days ahead without the worry.
What does SPF 15 actually mean?
It means that if it takes you 10 minutes to burn normally, you have 15 times that protection in minutes, so 150 minutes before you burn.
Also keep in mind SPF 15 filters 93% of UVB rays while SPF 30 filters 97%. I recommend SPF 30 all year round and to increase to SPF 50 during the summer, sun or ski holidays. When on the beach, remember to wear water resistant SPF.
Should I wear SPF every day? Even when it's cloudy?
Yes, absolutely. UVA exposure happens regardless of the weather and is responsible for premature ageing. UVB is what causes burning. Even on cloudy days, 80% of the dangerous rays penetrate through the clouds.
Using a daily moisturiser such as MZ Skin Hydrate & Nourish Age Defence Retinol SPF 30 Day Moisturiser will provide a one step solution in protecting the skin. It combines encapsulated (non-irritant) Retinol and SPF 30 to simultaneously refine the complexion and protect the skin. Retinol boosts collagen production and smooths fine lines and wrinkles, while the addition of SPF 30 protects from UVA/B rays and free radical damage.
How much sunscreen should I apply?
It is recommended to use the equivalent of two tablespoons to the face and body. Most people do not use enough sunscreen. On the face, use the size of a 10 pence
Sunscreen irritates my sensitive skin? Are there particular products that I should look out for or any any ingredients I should avoid?
In younger children, or those with sensitive skin, stay away from products containing benzephones and PABA. Use ingredients like titanium dioxide or zinc oxide instead. Avoid sunscreens with alcohol, fragrance or preservatives.
I have black skin. Should I wear SPF every day?
All skin should be protected from UV exposure. It is true that darker skin does not burn as easily as pale skin due to the higher levels of melanin, but dark skin might not be as protected as you think. The sun's UV rays are still ageing, can exacerbate pigmentation issues and increase the risk for skin cancer! It's still wise to opt for products with an SPF 30 for daily use and there is now a wide range on the market so you can choose something clear that doesn't look thick when applied.
Sun cream makes my skin breakout. Are there any acne-causing ingredients I should avoid?
It's best to avoid pore-clogging ingredients such as mineral oils and silicone, or cocoa butter and wheatgerm oil which are often added to natural sun protection. Sunscreens formulated to be water-resistant or physical sunscreens which contain zinc and titanium may also worsen acne. Always check the label and opt for light, non-greasy SPF products.
My makeup contains an SPF. Does this mean that I don't need to use a separate SPF?
Most SPF in make up is not sufficient coverage because not enough is used, and secondly the SPF is frequently factor 15. In this case, layering sunscreen protection is key. I always recommend a day cream containing sunscreen (such as the MZ Skin Hydrate and Nourish with SPF 30), and then make up with SPF.
Tint & Protect SPF 30 Tinted Moisturiser is activated by a high molecular weight Hyaluronic Acid, Kahai Nut Oil and encapsulated Vitamin C to intensify moisture levels and revitalise cell growth. Full spectrum UVA and UVB coverage protects against harmful photo-ageing and defends against environmental damage while the tint corrects skin imperfections and finishes the skin with a youthful complexion. Skin is left protected, luminous and with a healthy glow all year round.
Are there any ingredients you should be looking for in your products that will help with sunburn?
Aloe vera is a commonly associated soothing natural remedy, along with soy and oatmeal baths. These natural products are great as they don't contain fragrance like soaps. Yogurt or milk can be soothing to the skin too. Otherwise look for anti-inflammatory anti-oxidants such as Vitamin E.
MZ Skin's Vitamin Infused Facial Masks are perfect for a post-beach skin treat. They are rich in Niacinamide and will soothe any irritation using a cocktail of anti-inflammatory ingredients including Liquorice extract and antioxidants such as Green Tea, Aloe leaf, and vitamins C and E.
For long term sun damage, or photo aged skin, Vitamin C can help minimise sun spots and melasma. MZ Skin's Brighten & Perfect 10% Vitamin C Corrective Serum is formulated to activate collagen production, protects against premature ageing, and reduce the effects of UVA, and UVB rays. This peptide-rich formula helps control melanin production to guard against hyperpigmentation and age spots. Perfect too for a post summer fight against pigmentation.
If you also want to add an instant glow and hydration to the skin, MZ Skin Lift & Lustre Golden Elixir Antioxidant Serum has a high concentration of Plant Stem Cells (Marrubium Vulgare Meristem Cell Culture) to fight free radicals. With light reflecting gold mica pigments it is also formulated to give instant radiance and can be pressed into the skin under or over make up to the high points of the face such as top of the cheekbones, or bridge of the nose.
The final word?
Everyone should be wearing a broad spectrum UVA and UVB SPF, daily to protect against premature skin ageing and safely absorb Vitamin D.