Pollution, and its effect on the skin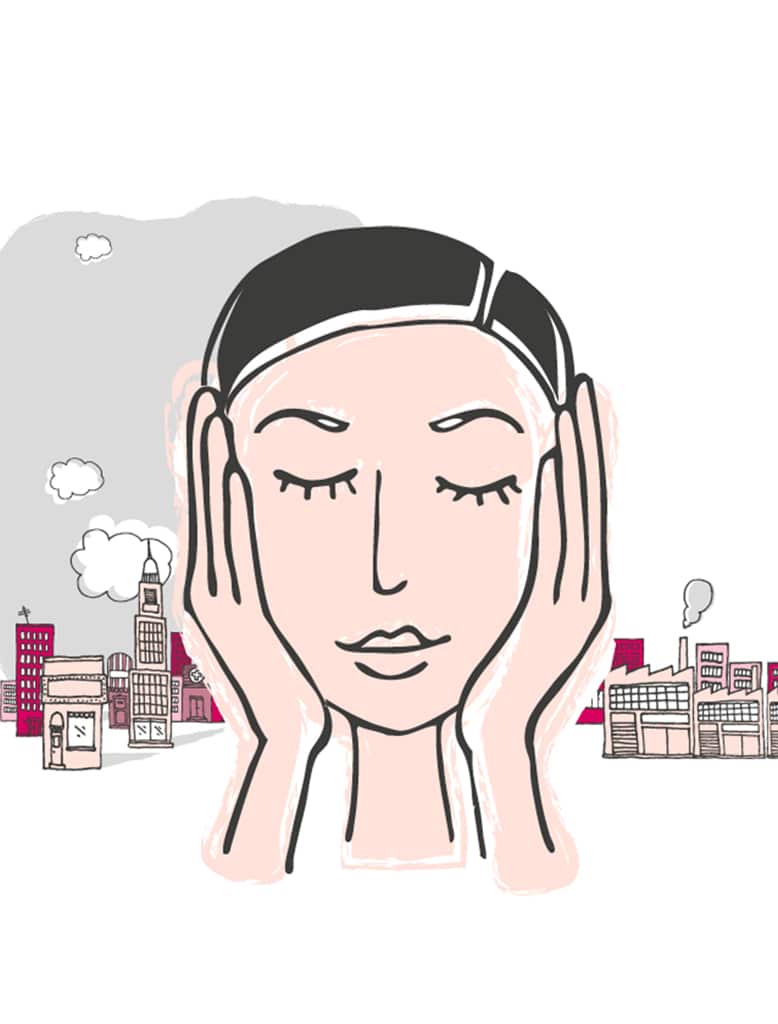 The increase of air pollution over the years has major effects on the human skin. The skin is exposed to ultraviolet radiation and environmental air pollutants, including volatile organic compounds, oxides, particulate matter, ozone, and cigarette smoke, on a daily basis.
Although human skin acts as a biological shield against air pollutants, the prolonged or repetitive exposure to high levels of these pollutants may have profound negative effects on the skin.
How does pollution effect my skin?
The small particles in the air penetrate down the pores and form free radicals and create so-called oxidative stress which leads to the skin ageing prematurely. Pollution compromises the skin's barrier function by breaking down collagen and the lipids contained within it.
Exposure of the skin to air pollutants has been associated with skin ageing and inflammatory or allergic skin conditions such as dermatitis, eczema, psoriasis or acne, while skin cancer is among the most serious effects.
Studies have shown that women who live in urban areas have skin that is up to 10 percent older than that of women who don't live in urban areas.
How can I reduce the effects of pollution on my skin?
Your skin type is largely genetic, but your skin conditions can change depending on external factors such as air pollution, UV light, diet and stress. This is called the exposome – our environment to which we are exposed.
What skin care counteracts pollution?
The key to fighting the effects of pollution on your skin is to cleanse every single day, twice a day and follow with products formulated with antioxidants. "Antioxidants are molecules that can neutralize free radicals, and therefore mitigate the negative effect of free radicals" says Dr. Zamani.
Fortunately, you can adjust your skin care routine to keep your skin balanced and protected.
Deep Clean
A double cleanse at night will ensure that pollution, make up and SPF are removed from the skin. The second cleanse particularly benefits the skin by cleansing deeper into the pores. MZ Skin Cleanse & Clarify Dual Action AHA Cleanser formulated with a blend of Alpha Hydroxy Acids and Fruit Enzymes to cleanse and exfoliate without irritation for a refined skin texture. It can also double as a mask by leaving on the skin for 8 minutes, 3 times a week to slough away dead skin cells.
Enlist Antioxidants
Oxidation can cause your skin to age prematurely especially when exposed to harmful air and pollutants. The most important defence we have against free radicals is the application of daily UV protection and antioxidants.
Antioxidants neutralise free radicals and are ready to counteract them when they come to attack. Examples of some effective antioxidants in skin care are Vitamins C and E, and Green Tea.
MZ Skin Lift & Lustre Golden Elixir Antioxidant Serum has a high concentration of Plant Stem Cells (Marrubium Vulgare Meristem Cell Culture) to fight free radicals. With light reflecting pigments it is also formulated to give instant radiance.
Protect
As we mentioned before pollution is constantly attacking your skin and can cause premature skin aging. Furthermore, it can draw out moisture from your skin making it look duller in appearance. Always apply a moisturizer at night to help strengthen this area of your face. A strong barrier is key to fighting off pollution.
MZ Skin Anti-Pollution Masks are detoxifying and refreshing hydrogel masks that revive lacklustre skin and defend against visible inflammation and redness. Instantly, the skin appears even, glowing and deeply hydrated, with ongoing antioxidant protection against the damaging effects of pollution and blue light.
How can you counteract pollution in other ways?
Dr. Zamani is a huge advocate for approaching skin health holistically. She says "your diet plays a big role in the fight against pollutants and the benefits of antioxidants also carry over to what you eat. Berries, leafy greens, citrus, and fish containing Omega-3s all help your body fight oxidation."
Also, drink plenty of water throughout the day; pollution can remove moisture from your skin!