Rise of the facial mist: Why you need one in your regime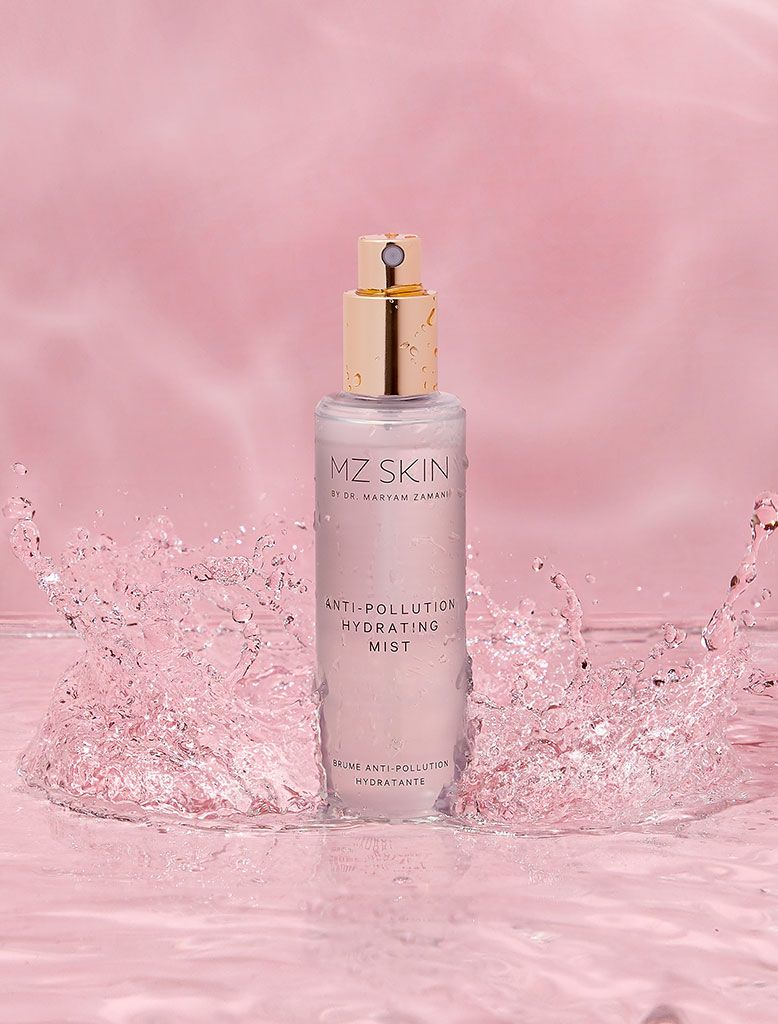 If you have been hearing about facial mists but still unsure what the hype is all about, or confused how exactly you would use them? Here are 5 ways to use a facial mist, and the reasons why they can be a lot more than just spritzing water on your face…
What makes the MZ Skin mist special?
It is indeed a moisture-boosting mist but it also protects and shields the skin from damaging modern environmental pollutants, infrared and blue light.
To do this, the unique formulation features 8 actives featuring antioxidant vitamins, minerals, and hydrators defend the complexion and improve visible signs of fatigue and inflammation associated with pollution and stressors.
What ingredients does the MZ Skin mist contain?
ECTOIN – Provides full spectrum pollution protection
ALGAKTIV GENOFIX DAY – Delivers blue-light powered cellular protection and repairs damage
VITAMIN C – An anti-oxidant that brightens and protects from free radicals
AMINO ACID BLEND – Hydrates and reinforces the skin barrier
ASHWAGANDHA – Botanical extract with anti-stress properties
VITAMIN D – Restores skin barrier function and helps build skin's resilience
MINERAL COMPLEX – Complex of zinc, iron, silicon, copper and magnesium to calm and energise skin
NIACINAMIDE – Reduces visible redness and refines the appearance of pores
When to use a face mist?
The big idea behind face mists is to give your skin an instant boost of hydration. But it turns out they're not only about adding extra moisture. Using face mists at certain times can actually give you additional benefits that you may not have thought about. Here are some of our favourite moments to spritz:
Spritz a mist when you wake up
This one may seem obvious, but there is nothing quite like a little face mist to help rejuvenate and assist you on waking up. Sometimes it's hard to get out of bed in the morning. Like on a cold morning when you're all cosy under the covers.
Use a facial mist under your moisturiser to increase absorption
Get the most out of your moisturiser by hydrating and dampening the skin right before applying your moisturiser to increase its absorption. And since you should apply moisturizer morning and night, using a face mist twice a day is also perfectly fine.
Before and after makeup application
How does face mist give you a more flawless makeup application? Let us count the ways. For starters, it creates a smooth and hydrated canvas for your foundation. Second, it helps foundation blend better, which means a more natural, sheer look. Last and certainly not least, giving your face a quick spritz after applying makeup can help set your look and prolong longevity and create a more a seamless finish.
To refresh makeup
Need a trick if you're planning on going out for the evening with makeup you applied in the morning? As mentioned above, it will help set your makeup so it lasts longer throughout the day. But also, if you need a touch-up, spritz to hydrate skin and make it easier to blend your existing makeup, and leave you with a fresh, dewy finish.
Pre and post workout
The scenario: you've just finished a serious gym session and didn't bring face wash. You can either walk out with a sweaty face or leave with a hydrated glow and refreshed feel with a spritz of mist.