In conversation with renowned MUA Celia Burton, who shares her inspiration, signature look as well as secret to looking fresh after a long flight!
1. What inspired you to become a make-up artist?
My aunt Lynne 'Pearl' Easton was a makeup artist. She sadly passed away in 2006 when I was 16. It was at her funeral, surrounded by my aunt's friends and contemporaries, that I first spoke of my own dream of becoming a makeup artist. Louise Constad, a close friend of my aunt's, runs a makeup course in London, and it was there that I first applied a face of makeup. My late aunt gave me the idea to become a makeup artist, but artists like Louise truly inspired me to follow my dream.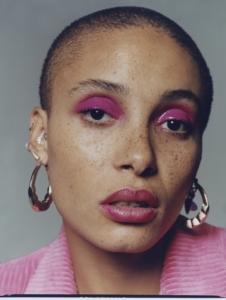 2. Who is your make-up muse?
I work with many inspiring and beautiful women, but I suppose my 'Muse' would have to be Adwoa Aboah. We have been friends for a very long time, and our shared history gives me a confidence I don't feel with many. I know her face so well, I'm not afraid to use new techniques or bold shapes on Adwoa. The work we have created together is some of my favourite as a result of the comfort we feel in each other's presence.
3. What is your signature make-up look?
I apply the mantra 'skin first, makeup second'. I have recently been using a lot of bright pigments and colour in my work, but it always starts with a beautiful base. I would like to think my 'signature look' is just that; radiant glowing skin.
4. What two skincare products could you not live without?
An oil based cleanser to clean and a rich moisturiser to hydrate.
5. What advice would you give to someone who wants to maintain a summer glow all year round?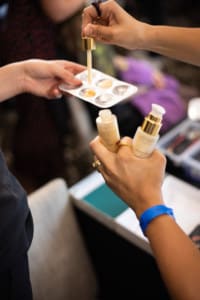 I would advise everyone to prioritise hydration, especially anyone living in England. Hyaluronic acid is the easiest way to keep your skin plump and bright, it's readily available these days and affordable too. I use MZ Skin's Lift & Lustre serum which is loaded with it.
That and a bit of fake tan, I LOVE Tan-Luxe Illuminating Self-Tan Drops. They keep my face sun-kissed throughout the winter.
6. What's a quick way to perk up tired eyes?
Tired and dull eyes (from flying, irregular sleep, long days etc) is a real issue with my clients. Brightening eye drops are a good place to start – Optrex eye brightening drops work perfectly, followed by an eye mask. MZ Skin Hydra-Bright Golden Eye Treatment Masks – straight out of the fridge – are the most effective under eye gels I have found to plump and brighten.
7. What's your secret to looking fresh after a long flight?
I have learnt that if you 1) avoid eating the plane food, 2) apply a cream face mask the minute you take off (and sit in it 'till you land), and 3) drink loads of water and less gin on a flight, you arrive back on solid ground looking as close to 'fresh' as is humanly possible.
8. What skincare product would you create that you believe is missing from the market?
I would love it if someone could create a safe way of naturally tanning one's self without having to fly somewhere hot or use fake tan. Like a safe sun bed, so we can all look gorgeous and glowy all year round.
9. What's your skincare routine?
Every morning I wash my face with cold water and pat dry. I apply Essence 27 (from Cosmetics 27) which is a light serum containing Hyaluronic Acid and Vitamin C, and an eye cream – MZ Skin Depuff & Define is my current favourite. Once those have sunk in, I apply a day cream. At the moment I am using the Hydro Moisturiser by probiotic brand Esse. At night I cleanse using Wildsmith Skin's Nourishing Cleansing Balm. After that I apply a vitamin A serum by the brand Synergie Skin, and follow with Goop's Replenishing Night Cream.
10. What advice would you give someone starting off their makeup artistry career?
Be open and enthusiastic. Say yes to internships, apply for apprenticeships, and enjoy being an assistant for a bit. It's the most effective and exciting way to learn our craft.
Credits: Celia Burton