2020 has been tough but summer fun was not cancelled! Despite everything going on in the world, most of us managed steal a little time for ourselves in the sun. Despite strong SPF, protective clothing and good skin care regimens, the skins of photo damage caused by the UV rays can become more pronounced and persist long after sun exposure has gone.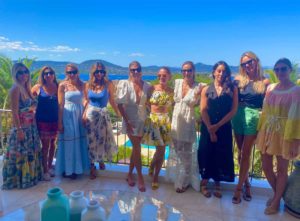 It is no secret that skin is very responsive to changes in weather conditions, humidity, as well as ever-changing diet and daily activities. UV rays are no friend to the skin. Excess sun exposure may result in plethora of skin conditions, from malignancy and photosensitivity to more cosmetic issues such as premature photo-ageing and hyperpigmentation. Can the skin be 'detoxed' after so much UV light exposure? There are definitely at home and in office treatments that can be done to help reverse some damage and help improve skin health. Below we have created our skincare regimen to help combat these changes.
Cleanser
Everyday cleansing is crucial to keeping skin radiant and healthy and restoring the post-summer glow. Daily gentle cleansing cleanses the skin, can encourage proper hydration and create a receptive environment for better penetration of topical serums, creams and oils that are placed on top. MZ Skin Cleanse and Clarify Dual Action AHA Cleanser and Mask helps to remove makeup, surface pollutants and environmental debris while gently exfoliating the skin. Alpha hydroxy acids are known to help hydrate the natural skin barrier and Papaya Fruit Enzyme helps boosts cell renewal. Together these ingredients leave skin hydrated, do not strip the skins barriers of essentials oils and allows the skin to be receptive to the skincare regimen. For a deeper, twice-a-week exfoliation, it is recommended to use MZ Skin Radiance & Renewal Instant Clarity Refining Mask. It is a 10% concentrate fruit acid complex, which aims to stimulate cell turnover, refine pores and help eliminate pigmentation, resulting in smooth, revived and glowing complexion.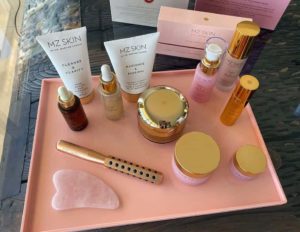 Serum
Vitamin C is a powerhouse antioxidant that promotes collagen production, helps shield from future oxidative damage and helps reverse the signs of photodamage like pigmentation. MZ Skin Brighten & Perfect 10% Vitamin C Corrective Serum is formulated with an encapsulated concentration of 10% Vitamin C. Encapsulation means that this formula has a specific vector to allow better penetration of the product without the side effects. Its effect is clinically proven to reduce brown spots by 39.7%. Apply 2 pumps of the serum onto the face, neck and décolletage and gently massage until absorbed.
Cream
An effective night cream can help restore the skin's lipid (fat) barrier, boost hydration and restore skin pigment. MZ Skin Replenish & Restore Recovery Mask combines ground-breaking science with innovative formulations to nourish, detoxify skin and build blocks to the skin. Infused with nutrient-rich placenta and phyto stem cells, it penetrates the skin to reduce the appearance of hyperpigmentation and nourish skin from within for deep hydration and collagen synthesis. Infused with antioxidant Vitamin F, it aims to support cell function and create a glowy, healthier-looking complexion. MZ Skin Hydrate & Nourish Age Defence Retinol Day Moisturiser is a perfect, non-greasy SPF 30 daytime cream, which contains Hyaluronic Acid to help restore hydration, smooth out the complexion and brighten skin tone.
Sheet Mask
Masks can help detoxify and hydrate the skin while being therapeutic and calming. We recommend MZ Skin Vitamin-Infused Facial Treatment Mask, which contains a combination of soothing antioxidants and brighteners to reduce inflammation, improve skin texture, and bring about a healthy glow. Skin is left feeling nourished and hydrated! After removing the mask, massage in the remaining serum into the skin using Tone & Lift Facial Roller, which has germanium pods to help defend skin from surrounding environmental aggressors and decrease and stimulate the body's natural self-curative abilities. Your skin feels detoxified and refreshed after using it.