What are the benefits of Pigmentation Correcting Ampoules?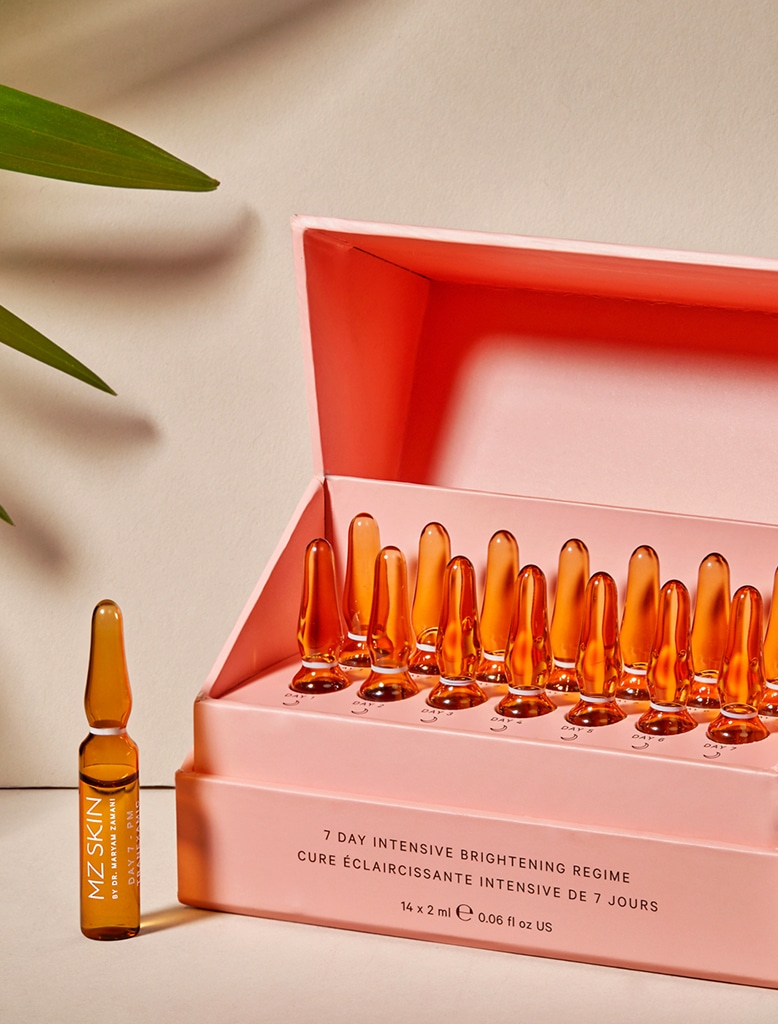 Our collection of Ampoules has just expanded with the launch of the MZ Skin Pigmentation Correcting Ampoules.
These offer an intensely brightening and restorative 7-day treatment regime. Scientifically formulated to be used morning and night to help improve pigmentation, discolouration and uneven skin tone.
The regime contains 14 serum-filled ampoules which feature vitamin C, Tranexamic acid, alpha arbutin and antioxidant vitamins to protect, brighten and plump the complexion.
Here we explore the benefits of ampoules and specifically how these Pigmentation Correcting ampoules can help even skin tone in the fight against pigmentation.
What is an ampoule?
A concentrated single-shot serum that is contained in a glass vial. This convenient packaging is usually also tinted to protect the actives from sunlight, and ensure you get optimum dose.
They are formulated to target skin concerns and help give your skin a boost. Facial ampoules contain a high concentration of active ingredients targeted to treat specific concerns including brightening, dullness, discoloration, dryness and hyperpigmentation.
How is an ampoule serum different to a moisturiser?
The molecular structure of a serum is much smaller. Serums are also typically thinner and lighter than moisturizers packed full of active ingredients so they can really penetrate the dermis. For this reason, you should always apply a serum directly to your skin after cleansing, and before your moisturizer and sunscreen.
Due to their textures, they absorb quickly and can be used both morning and night. They are not meant to replace your moisturizer but can be used to boost its hydrating effects.
Serums are used to address a variety of skincare issues. To name a few; anti-aging serums, skin brightening serums, and acne prevention serums. Serums tend to be more expensive than other skin care products, but being that they are full of potent ingredients, a little will go a long way.
Moisturizers are often thicker and creamier than serums. They are meant to hydrate the skin and prevent water loss. Some moisturizers have added anti-aging ingredients, so they do double duty for your skin. But to really address a difficult skin care problem, like sun damage, you'll want to combine your moisturizer with a quality serum.
What are the benefits of the Pigmentation Correcting Ampoules?
There are 3 different formulas for your skin across this 7-day regime. These are:
GLUTATHIONE BOOSTER for days 1, 3, 5 & 7- AM
Glutathione, a naturally occurring tripeptide that is made up of three amino acids; Cysteine, Glutamic acid and Glycine. It visibly reduces hyperpigmentation by inhibiting melanogenesis. It works by suppressing the activity of tyrosinase, the enzyme responsible for melanin production.
The concoction also contains powerhouse antioxidants that fight against damaging free radicals to brighten and help reduce signs of ageing:
Halidrys Siliguosa Extract, a marine agent derived from Algae
Folic Acid, also known as vitamin B9
Superoxide Dimutase, a naturally occurring enzyme that works as an antioxidant
ALPHA ARBUTIN BOOSTER for days 2, 4 & 6 – AM
This booster is a gentle yet impressive blend of Alpha Arbutin, Vitamin C and Liquorice Extract which all work together to brighten and even the complexion while also soothing and calming the skin.
Alpha Arbutin is a gentle skin brightening agent that works by inhibiting tyrosinase, the enzyme responsible for melanin production, to help improve, brighten and fade away dark spots.
Ascorbyl Glucoside, a stable form of Vitamin C, is a powerful antioxidant that gives skin a youthful glow by defending against free radicals, promoting cell turnover and stimulating collagen production.
Glycyrrhiza Glabra (Liquorice) Root Extract is a potent antioxidant with an excellent ability to fade away dark spots. It also has anti-inflammatory properties which inhibits inflammation triggers to calm and soothe the skin.
TRANEXAMIC ACID BOOSTER for days 1-7 – PM
Tranexamic acid provides a powerful and specific anti-inflammatory action to calm and help restore the skin barrier. It helps with hyperpigmentation, melasma and age spots by inhibiting tyrosinase and blocking the transfer of pigment from melanocytes to keratinocytes in the epidermis.
Other ampoules available at www.mzskin.com :
This five-day radiance regime delivers single-doses of active skincare ingredients twice per day to help restore skin's youthful glow and natural luminosity. The regime is scientifically formulated with an innovative sequence of antioxidants and acids, including Vitamin C, Lactic Acid, Glycolic Acid, Meso Cocktail and Ascorbic Acid, which work together to brighten, hydrate and smooth the complexion.
Hydrate and soothe skin in just 5 days. This restorative 5-day programme combats stressed and dehydrated skin with 10 targeted, serum-filled ampoules. Each powerhouse formula is carefully designed to replenish essential moisture levels; the key to calm, balanced and glowing skin. Micro-molecules of hyaluronic acid penetrate deeply to achieve optimal hydration and reveal a youthful radiance. Soothing botanical extracts and barrier-boosting antioxidant vitamins instantly reduce inflammation while boosting the skin's long-term defences. Plumping peptides target collagen production to visibly firm the skin and smooth fine lines and wrinkles.
Brightening & Hydrating Eye Ampoules
Inspired by Dr Maryam Zamani's years of hands-on experience as an eye doctor, these intelligent ampoules specifically and effectively target the eye's unique signs of ageing while remaining kind to the delicate skin in this area.
Say goodbye to tired eyes with this expertly designed 5-day ampoule programme. Formulated with a combination of powerhouse peptides, antioxidants and meso-hydrators, these 10 serum-filled ampoules visibly plump and firm, support skin density, reduce dark circles, minimise puffiness and restore youthful luminosity.