Hydra-Lift Golden Facial Treatment Mask
Pack of 5
TREATMENT
Clinically proven to improve smoothness in 1 month
Lifts areas prone to sagging
Reduces the appearance of hyper-pigmentation
Q. Should I wash my face after using the mask?

A. No, we recommend you gently pat the serum into your skin until it is fully absorbed. Your skin won't want to miss out on all that goodness!

Q. Is this suitable for Vegans?

A. Yes

Q. Are your products cruelty free?

A. MZ Skin does not test on animals or commission any third parties to do so on our behalf. We do not use ingredients or suppliers who test on animals. Any animal-derived ingredients used in MZ Skin formulas, such as ovine placenta, are natural by-products and no sheep are harmed in the process.
Place and press the mask onto the face.  Leave on for 20 minutes and gently massage to enhance the absorption of active ingredients.  Peel off and remove any excess with warm water.  Use up to twice a week and place in the refrigerator for 5 minutes before using to add an extra cooling effect to the ritual.
To ensure your skin is in the best condition it can be, it's vital to give it care and attention every single day with a good skincare routine. However, our skin also deserves an extra treat from time-to-time perhaps for a special occasion or as a weekly deep condition. We have devised two anti-ageing MZ Skin treatments to choose from to help your skin stay looking young, fresh and radiant.
DAILY SKIN RITUAL FOR AN EVERYDAY DOSE OF GOODNESS
Whatever your skin type, you should be following a daily skincare routine to keep your complexion in optimal condition. We have devised a three-step regime based on the principles of Reveal, Enhance and Protect. Follow this day or night
FIRMING & BRIGHTENING FACIAL TREATMENT INSTANTLY LIFTS AND SMOOTHS THE COMPLEXION
DAYTIME RITUAL
EVENING RITUAL
Aqua, Glycerin, Algin, Sodium PCA, Aloe Barbadenis Leaf Juice, Collagen, Hyaluronic Acid, Niacinamide, Rose Damascena Flower Oil, Ascorbic Acid, Phenoxyethanol, Ethylhexylglycerin, Tocopherol Acetate, CI 77480 (Nano Gold Particle).
Full ingredients list is subject to change.
"These face masks will give you that fresh-from-the-spa-glow."

"It's become my go-to party recovery mask. I woke up the next morning with skin looking almost as good as new."

"This super luxurious golden mask is absolutely saturated with gold nano particles, niacinamide, vitamin C and collagen. Try cooling the mask in the refrigerator for five minutes first."
DIRECTIONS AND RITUALS
Watch Dr. Maryam Zamani on how to use and benefits of Hydra-Lift Golden Facial Treatment Mask.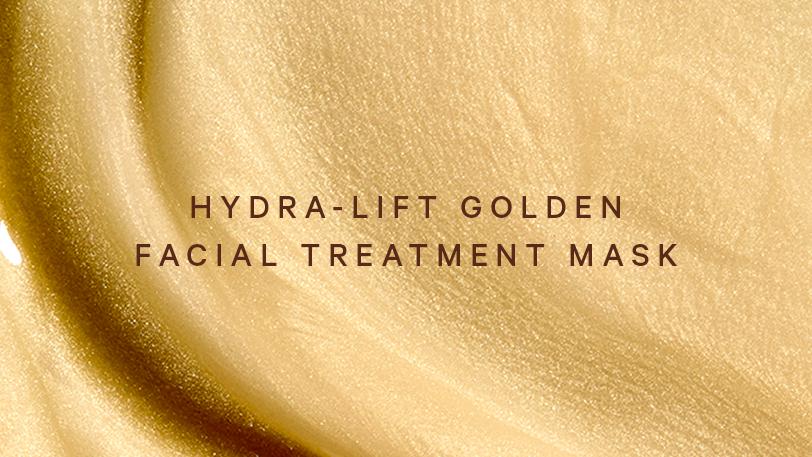 KEY INGREDIENTS
Nano Gold Particles
Benefit: Pure gold delivered through nano-technology to penetrate deep down into the skin's basal layer. Help to repair skin cells, protect from free radical damage, intensify moisturisation, boost microcirculation and repair sun damage. Skin is visibly brighter and more radiant.
Collagen
Benefit: Boosts collagen levels in the skin to plump and firm. Encourages the skin to produce more collagen.
Hyaluronic Acid
Benefit: Provides instant and long-term hydration; preserves collagen, plumps and smooths the skin; prevents moisture-loss.
Vitamin C (Ascorbic Acid)
Benefit: Brightens the skin and restores radiance.
Niacinamide
Benefit: Vitamin B stimulates elasticity and improves firmness of the skin. Enhances skin's barrier function to prevent against moisture loss. Smooths and refines skin's texture.
Aloe Leaf Juice
Benefit: Rich in antioxidants including Beta Carotene, Vitamins C and E, deeply hydrates the skin, repairs and improves firmness.
DR MARYAM'S INSIGHTS
Apply the mask day or night on cleansed, dry face.
Masks come in packs of five and are for one time use.
Use up to twice a week for maximum effect.
For a cooling effect, place in the refrigerator for five minutes prior to use.
After use, the mask is visibly thinner as the nutrition and moisture has been deeply absorbed into the skin.
For a more complete facial, apply cleanser beforehand and follow with the day cream or night serum.