Natural Konjac Sponge
Red Clay Konjac Sponge
AM / PM
15% Off For A Limited Time 🛍 Discount Auto-Applies At Cart
100% natural – free from chemicals, additives and preservatives
Suitable for all skin types, including sensitive
French Red Clay rich in iron oxide boosts circulation and regeneration
Q. How long can I use this for?

A. If using daily, we recommend you replace every 4-6 weeks.

Q. What is the best way to look after my Konjac Sponge?

A. We suggest leaving your sponge to hang on a warm towel rail or radiator to dry.

Q. Is the texture abbrasive to skin?

A: No, Konjac Sponges cleanse and exfoliate without the harsh irritation of a physical scrub, giving your skin a smooth and glowing look.

Q. What does the sponge feel like?

A. Konjac sponges harden when dry, so simply let it soak in the shower or sink for a minute to soften up before using.

Q. Is this suitable for Vegans?

A. Yes
Hydrate the sponge with water until fully saturated and expanded.  Squeeze out any excess and gently massage in a circular motion across the face, neck and décolleté.  To supercharge the ritual add a small amount of cleanser directly onto the sponge.  Hang the sponge in a warm and airy place to dry naturally after each use and replace every 4-6 weeks for optimal results.
Whatever your skin type, you should be following a daily skincare routine to keep your complexion in optimal condition. We have devised a regime based on the principles to Reveal, Enhance and Protect your skin.
DAYTIME RITUAL
EVENING RITUAL
Massage CLEANSE & CLARIFY Action AHA Cleanser & Mask onto the face and neck using the Konjac Sponge to remove make-up and debris. Rinse thoroughly
Apply SOOTHE & SMOOTH Collagen Activating Eye Complex on the eye contour
Smooth on REST & REVIVE Restorative Placenta & Stem Cell Night Serum
Konjac and French Red Clay
DIRECTIONS AND RITUALS
Watch Dr. Maryam Zamani on how to use and benefits of Natural Konjac Sponge.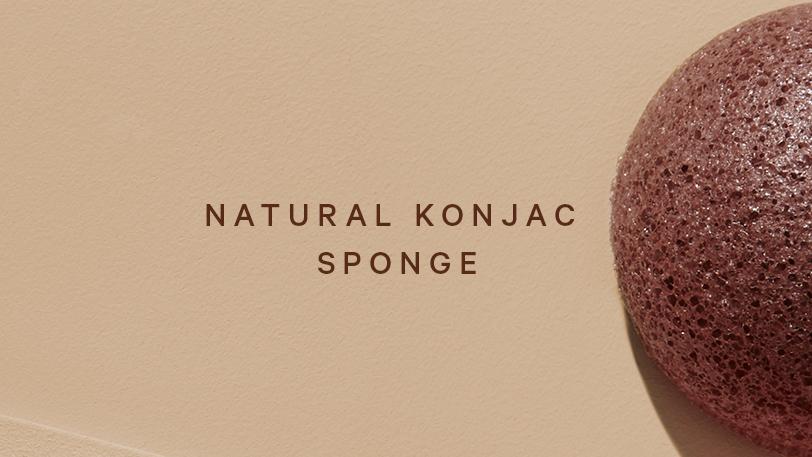 KEY INGREDIENTS
Konjac
Benefit: From the Konnyaku plant native to Asia. Consists of 97% water, rich in minerals and antioxidants. 100% biodegradable and sustainable.
French Red Clay
Benefit: Rich in iron-oxide, helps to accelerate the regeneration process and improve circulation.
DR MARYAM'S INSIGHTS
Can be used by men or women.
Can be safely used on both the face and eye area.
Removes water-based make-up.
If desired, apply a small amount of MZ Skin Cleanse & Clarify to the sponge to help the cleanser work harder. Alternatively, use the sponge alone to experience its unique revitalising properties.
Hang or place the sponge in an airy or warm, dry place to dry naturally between use.
When dried the sponge will shrink and harden – this is natural, simply rehydrate.
Replace sponge every 4- 6 weeks for the best results.
Never use the sponge without adding water.