What is the benefit of incorporating eye ampoule serums into my regime?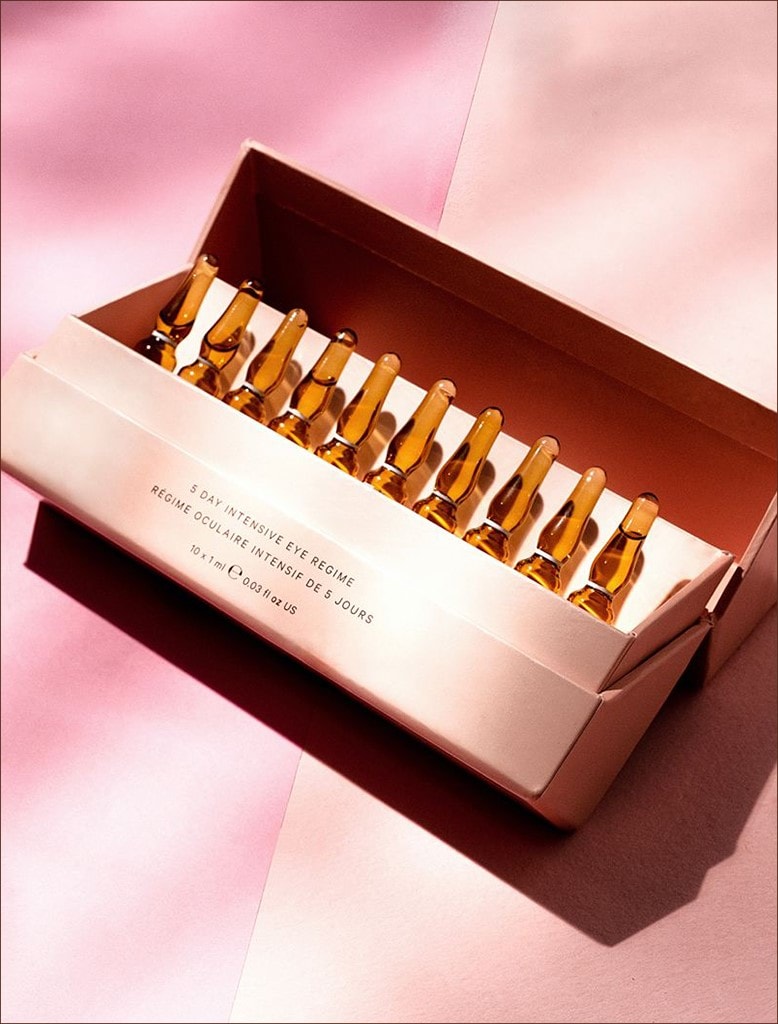 With the highly anticipated launch of MZ Skin's Hydrating & Brightening Eye Ampoules this week we thought it may be worth explaining the benefits of incorporating a serum into your skin care regime, but more specifically how an eye serum can benefit the delicate eye area too.
As the skin in this area is so thin, and delicate it is also the first to show signs of ageing. Therefore, using an effective eye cream, applied lightly using the ring finger, is proven to help combat fine lines. Dr Zamani has long pledged us to make sure that our morning and night skin care regime is different; the morning is about protecting the skin by incorporating an SPF to avoid premature ageing and pigmentation in later years.  In the evening she absolutely recommends using a serum to assist in regenerating the skin filled with antioxidants and other ingredients, followed by a night cream.
But how is a serum different to a moisturiser?
The molecular structure of a serum is much smaller. Serums are also typically thinner and lighter than moisturizers packed full of active ingredients so they can really penetrate the dermis. For this reason, you should always apply a serum directly to your skin after cleansing, and before your moisturizer and sunscreen.
Due to their textures, they absorb quickly and can be used both morning and night. They are not meant to replace your moisturizer but can be used to boost its hydrating effects.
Serums are used to address a variety of skincare issues. To name a few; anti-aging serums, skin brightening serums, and acne prevention serums. Serums tend to be more expensive than other skin care products, but being that they are full of potent ingredients, a little will go a long way.
Moisturizers are often thicker and creamier than serums. They are meant to hydrate the skin and prevent water loss. Some moisturizers have added anti-aging ingredients, so they do double duty for your skin. But to really address a difficult skin care problem, like sun damage, you'll want to combine your moisturizer with a quality serum.
What are the eye ampoules and what serums do they contain?
They are an expertly designed 5-day programme, formulated with a combination of powerhouse peptides, antioxidants, and meso-hydrators. It features 10 serum-filled ampoules (for use day and night) to visibly plump and firm, support skin density, reduce dark circles, minimise puffiness and restore youthful luminosity.
Inspired by Dr Maryam Zamani's years of hands-on experience as an eye doctor, these intelligent ampoules specifically and effectively target the eye's unique signs of ageing while remaining kind to the delicate skin in this area.
The ampoules contain the following serum's which each have their own benefits to the skin:
EYE BRIGHTENING BOOSTER SERUM: Reduces the appearance of dark circles and puffiness.
COLLAGEN BOOSTER SERUM: Supports skin density and hydration.
PLUMPING BOOSTER SERUM: Visibly plumps, energises and instantly lift.
Why do I need to use a specific eye serum or cream, and not my regular moisturiser?
As we've discovered, the periorbital area is particularly vulnerable to ageing.  Eyelid skin is extremely fragile and thin, at only 0.05mm thick, and therefore the most delicate skin on our bodies.
When you think that the underlying musculature (22 muscles and approximately 10,000 blinks per day) is under constant exertion, it is understandable that the eye area is prone to appearing more wrinkled, at a faster rate.
Unfortunately, the periorbital skin also has less sebaceous glands, making it more prone to losing moisture and becoming dryer and, with time, there is a decrease in elastin and collagen production.  As we age, the bony structures below the skin also change and remodel or resorb making it age more quickly.
External environmental factors like sluggish microcirculation can also exacerbate tired looking eyes, making them appear darker.  Because of the thin overlying skin, markers for poor circulation are more prominently revealed around the eyes than on other parts of the body.  The more dehydrated the skin around the eyes, the more tired and fatigued they appear.
For these reasons, Dr Zamani wanted to create eye serums to accompany her creams (Soothe & Smooth Collagen Eye Complex and Depuff & Define Contouring Eye Rescue) as the periorbital area needs effective yet gentle treatment. A regular daily facial serum or cream are often a little too rich so serums and creams formulated for the periorbital area are preferable. They are specifically formulated with active ingredients aimed for this delicate area which help combat fatigue and signs of skin ageing.
It is also important to note that with the application of eye products, the biggest mistake people make is that they apply the product too aggressively, or they do not use enough or combined an eye serum into their regime.
When treating the periorbital area, it is important to look for ingredients that have potent antioxidants which protect from free radical damage and promote collagen production.
With all of this in mind, the answer to a more youthful complexion may not lie in simply focussing on the age lines, but rather on creating a more radiant and hydrated eye area. It is our goal to maintain healthy, radiant skin with proper skincare to reveal, enhance and protect the face and the area around the eye.  The more hydrated the skin, the less vulnerable we are to the signs of ageing.
Who will benefit from an eye serum and cream – is there a certain age, or skin type, that should always use one? 
Anyone over 20 can benefit from an eye serum and cream as they are formulated with better penetration of actives and retention of hydration for this area.
At any age there are many different aspects of periorbital ageing that are overlooked and must be considered. Of course, there are dynamic rhytides (or wrinkles) that are a direct consequence of emotion; however, with proper skincare, we can slow the rate of rhytide formation, keeping a rejuvenated and more youthful appearance for longer.
What ingredients are good to look for in an eye serum and cream, and why?
Ceramides help lock in moisture.  Hyaluronic acid tends to create moisture but needs to be well formulated to help penetrate the skin. Growth factors, tri peptides.  Liquorice, and caffeine, can help minimize and reduce dark circles. The MZ Skin Hydrating & Brightening Eye Ampoules deliver intelligent collagen-boosting peptides, antioxidants, and hydrators while remaining kind to the delicate skin in this area. We recommend using them once a month for optimum results.
Are there any ingredients we should avoid on the eye area? (I.e., mineral oil, irritants)
It is suggested to avoid fragrance, alcohols, retinols, and acids too close to the periorbital area.