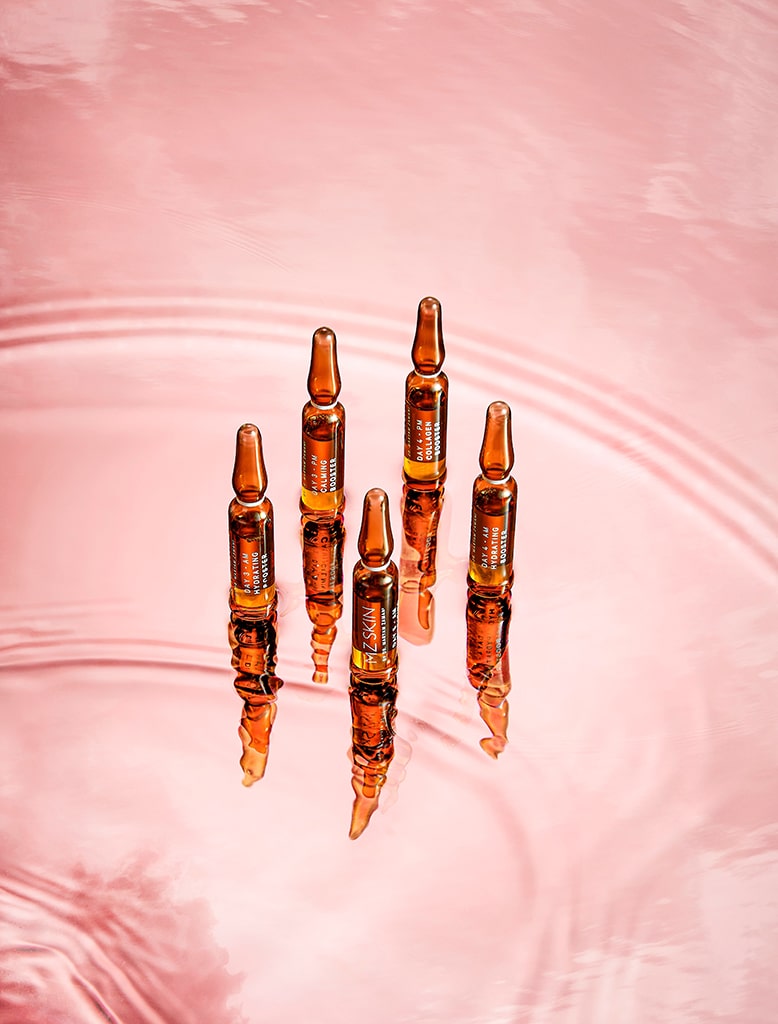 If you're into skincare, and chase the latest formulas and ingredients, chances are you've been hearing the word "ampoules". They've been causing quite a stir.
So, what exactly are Ampoules?
An ampoule is a supercharged serum that contains a higher concentration of various active ingredients formulated to give your skin more dramatic results, in a shorter amount of time.
Ampoules have played a large role in Korean skincare for a long time and are designed to enhance your beauty and skincare routine. They offer a range of benefits for your skin, from boosting collagen and calming skin to providing the dermis with essential vitamins and nutrients in order to stay healthy and maintain that perfect glow.
"There are several benefits of incorporating ampoules into your morning/evening skincare routine," says Dr Zamani "Each ampoule is packed with a fresh and stable boost of pure active ingredients, and we love the easy access to these actives in a travel-friendly pod in one single use. Just snap them open and apply to the skin from your décolletage for a blast of anti-aging skin benefits."
What makes them different from serums?
Ampoules have higher doses of active ingredients and fewer of them. "Having a few ingredients in potent quantities can make it easier to address specific concerns, making skin care more customized without overapplying additional, less-effective products", Zamani explains.
In general, ampoules may have one or two ingredients to help with a specific skin concern and often are potent enough that they are only intended for short-term use, explains Dr. Zamani. At MZ Skin our ampoules "have specific benefits for the skin, such as improving fine lines, brown spots, dry skin, a dull complexion or anti-aging effects," she says. Applying an ampoule a few days after a long flight, for instance, can give dehydrated skin a super-charged dose of moisture.
What is the history of ampoules?
Decades ago, ampoules were a packaging concept borrowed from the medical industry where small sealed vials made of glass have been used to preserve and deliver a specific dosage of a medication. Now, the packaging helps ingredients stay active without exposure to light, heat, or air, which can often render them inactive.
What ampoules are in the MZ Skin range?
Our range of targeted treatment ampoules are formulated to enhance the complexion and give in-clinic worthy results. Created by Dr Zamani to provide intense hydration, clarity, or radiance. These ampoules offer MZ Skin's most powerful and precise treatments, delivered via 5 or 7 day programs.
This five-day radiance regime delivers single doses of active skincare ingredients twice per day to help restore skin's youthful glow and natural luminosity. The regime is scientifically formulated with an innovative sequence of antioxidants and acids, including Vitamin C, Lactic Acid, Glycolic Acid, Meso Cocktail and Ascorbic Acid, which work together to brighten, hydrate and smooth the complexion.
A restorative 5-day programme to combat dehydrated skin. Each powerhouse formula is carefully created to replenish essential moisture levels. Micro-molecules of hyaluronic acid penetrate deeply to achieve optimal hydration and reveal a youthful radiance. Soothing botanical extracts and barrier-boosting antioxidant vitamins instantly reduce inflammation while boosting the skin's long-term defences. Plumping peptides target collagen production to visibly firm the skin and smooth fine lines and wrinkles.
Brightening & Hydrating Eye Ampoules
Formulated with a combination of powerhouse peptides, antioxidants and meso-hydrators, these 10 serum-filled ampoules (for use day and night) visibly plump and firm, support skin density, reduce dark circles, minimise puffiness and restore youthful luminosity. Inspired by Dr. Maryam Zamani's years of hands-on experience as an eye doctor.
More ampoules COMING SOON!! Watch this space…