A Saturday in lockdown with Maryam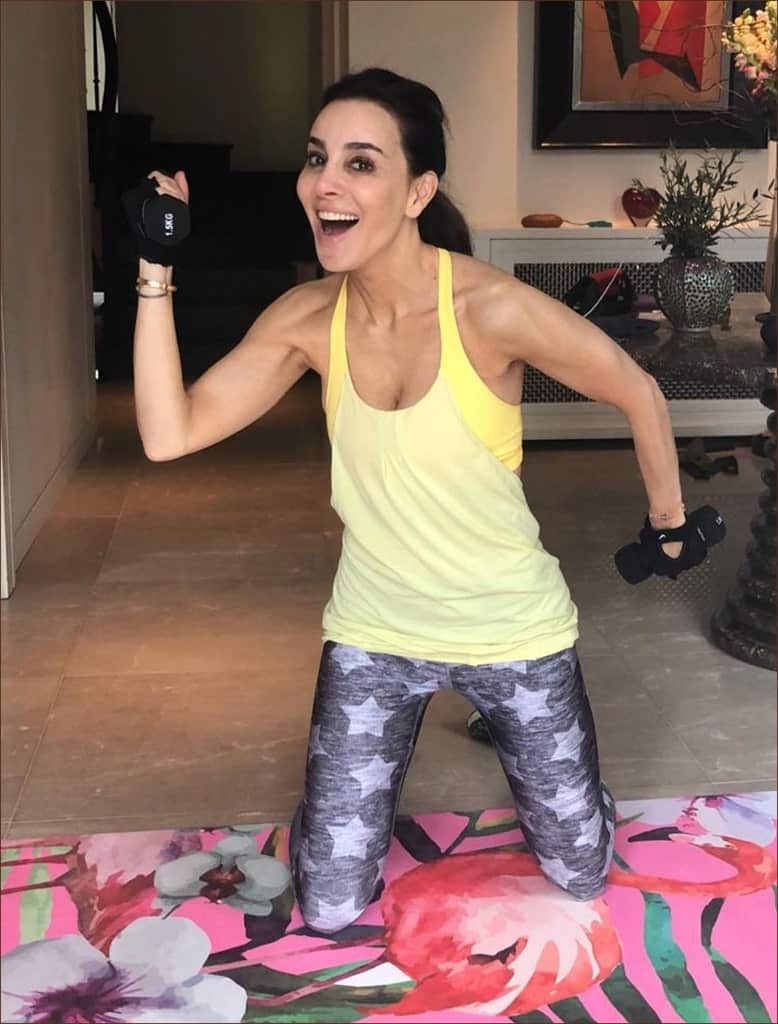 As lockdown continues, we caught up with our brand founder, Maryam for some weekend plan inspiration…
What does a typical Saturday breakfast consist of?
I am absolutely a creature of habit and start every day with a hot lemon and ginger infused water. But on a Saturday, I love having 2 poached eggs, cooked to medium with wheat free toast, a little bit of butter (I know so terrible!!) and a few chilli flakes on top. I'll have a half orange and half mandarin fresh juice too.
Are you still as dedicated to your exercise on a weekend?
Yes! I have my trainer every Saturday morning for one hour, I'll do a mix of high intensity and resistance training. Then I usually go out with the kids to a local park. We might bike ride or take a longer walk with friends so that we can all enjoy some other company, socially distanced, of course. Oh, and I do my Peloton at least once too!
We hear you're a member of a book club. What books would you recommend/read lately?
I am a huge fan of reading and a member of two different bookclubs – one with Georgetown University and one with my London friends. At the moment I am reading The Power of Supply and Demand. Next up will be The Glass Castle by Jeanette Walls.
What websites are your favourite to shop?
Well, I love finding new and different places to go to but it really depends what I am looking for. In London I love Koibird in Kensington, it always has something fun and exciting and I do like to find something that isn't seen everywhere. Of course, I go to Matches and Moda Operandi to find a few pieces, but recently I have tended to use Instagram to find some niche brands.
Is there a favourite café/bakery/food outlet in your local area you frequently visit on a weekend?
I have a real sweet tooth and Molly Rose Bakery on Old Brompton Road has the most divine homemade, freshly baked chocolate Oreo cookies that are just to die for! A friend of mine bought this to my attention and it is our little treat when I go with my kids on the weekend. One of my favourites!
I also love supporting local shops around Chelsea Green so I visit the fishmonger there and the fruit stand and of course Luigi's Deli for everything Italian!
What's your favourite meal for Saturday night dinner?
This is when we like to do Deliveroo. We also often order out from Nobu. Otherwise, my husband is a very good cook and he'll make some fabulous steak with salads and he is very good at sauces, too.
Do you enjoy cooking? Any recipes you would like to share?
Eeek, I am definitely not someone who likes cooking. I like to eat, and have it prepared for me. I don't like to make a mess in the kitchen so if ever I find a recipe, I share it with my husband or my divine housekeeper who is also an amazing cook. We make up our own recipes sometimes with lean meats and all the yummy greens. That is mainly what our dinners consist of midweek.
How do you entertain your children? Favourite family activity?
Entertaining the kids has become difficult as they have now entered their tween years but we tend to have family movie nights on Friday to relax and refresh.
My son also plays a lot of football on the weekends with my husband. My daughter and I will walk the dog together while they do that. My daughter loves to paint and we all hang out with her while she gets creative and talk about what's going on in the world.
Favourite movies/TV series?
Oh my goodness, I think I have finished Netflix and Apple TV but I am watching How to Get Away with Murder at the moment. There are so many great shows out there. I have just finished Hernan which is amazing, I loved, loved that series. My daughter is now into all the Harry Potter movies so we're watching the new one this weekend.
What are you missing most in lockdown?
Oh gosh, there are a few things. Firstly, my gym, Kicks. I miss going and getting my cardio done there. I enjoy Peloton at home but I really miss the social aspect and meeting my friends and sharing a lunch with them. The thing I am missing the most is giving people a hug!
Otherwise, I am very grateful for what I have and try to keep a glass half full mentality.
What's your favourite way to relax?
It is to exercise, if you can believe that. For me, having that time whether it be a walk, the Peloton or weight training it is how I really switch off for some mental relaxation.
I may also do my little MZ Skin ritual to relax – I'll run a bath and apply my skincare. My daughter is starting to get into this too and I find that really fun.
In non-lockdown times I'd enjoy a massage which was a perfect way to end a Sunday.
What's your advice to anyone struggling in lockdown, perhaps living on their own, missing family?
Well, I think we're all feeling this to some extent. I am very fortunate that I have two small kids that help keep me in check and that I have a career that can keep me working but what I would say is try to put your eyes on something for yourself every day. If you're not exercising, get up and go for a walk you know go around the neighbourhood. Take those first minutes of the day for yourself. That may be some meditation instead. Find something that interests you – that hobby you've been thinking about, this might be the time to start!
Also, try to reconnect. When I was lacking socially, I started spending quality time on FaceTime instead with a support network and talk about things that are unrelated to lockdown. This has heled me tremendously.
Focus your energies on yourself, find what makes you happy, yoga, a skincare ritual, and try to get some fresh air – it is so important for your mind.
If you are really in a low place, don't be ashamed. This is a very hard time to be living and isolation is very difficult to get used to. Reach out, and let's all be kind to those around us. No one knows what anyone else is really going through but you'll be surprised at how many people will be there to support you.