International Women's Day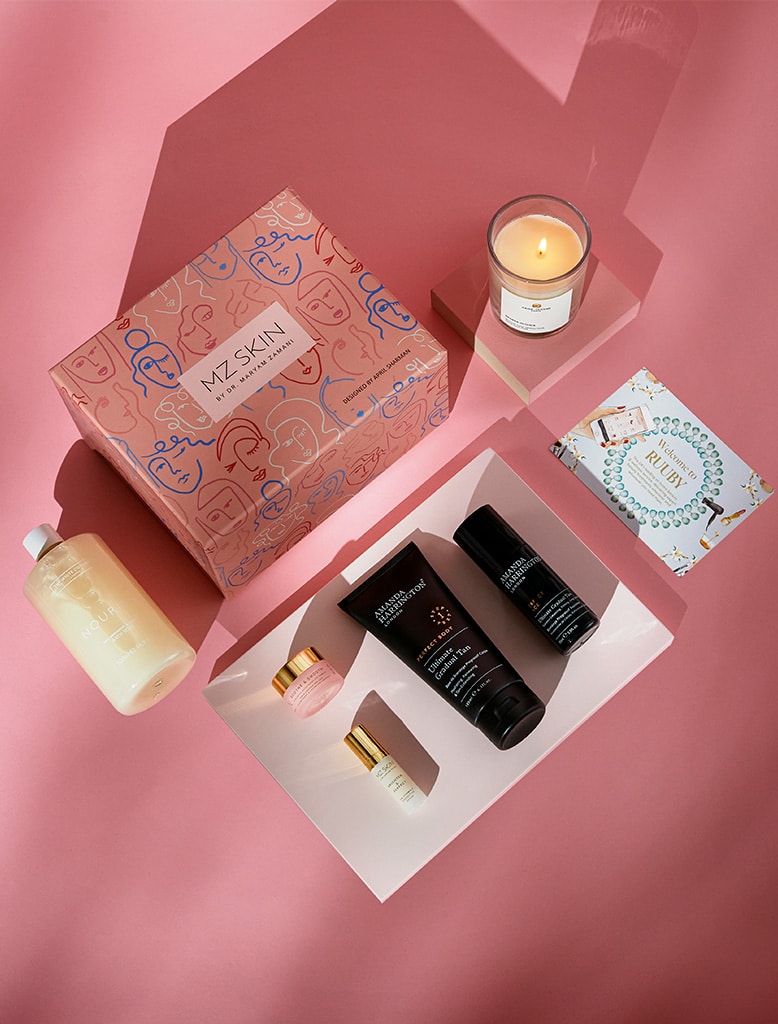 Today marks 8th of March – wildly celebrated International Women's Day. We celebrate women everyday, however especially today we want to celebrate women's achievements.
We've curated a collection of products by female-owned beauty brands for a moment of well-deserved indulgence – all nestled in a beautiful box designed by April Sharman. In collaboration with The Prince's Trust charity, we will be donating 5% of proceeds from this box to the #ChangeAGirlsLife campaign.
Discover what's inside the collection and meet the female founders whose brands feature in our limited-edition box and read why they're each so passionate about supporting International Women's Day:
LIMITED EDITION COLLECTION INCLUDES:
+ MZ Skin Brighten & Perfect 10% Vitamin C Corrective Serum 5ml
+ MZ Skin Soothe & Smooth Hyaluronic Brightening Eye Complex 14ml
+ The White Company Nourish Bath Soak 500ml
+ Amanda Harrington Gradual Radiance Duo (Perfect Face Ultimate Gradual Tan 75ml, Perfect Body Ultimate Gradual Tan 180ml)
+ Ruuby £50 voucher (UK only; Manchester, London, The Cotswolds)
+ Sana Jardin Berber Blonde Scented Candle 190g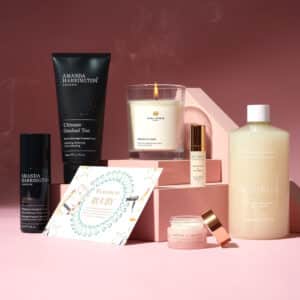 SHOP THE BOX HERE.
BENEFITS
To shine a light on International Women's Day, all the products in our charity box spotlight brightening and radiance, both inside and out.
+ Restore vibrance to your complexion with MZ Skin Brighten & Perfect serum, featuring 10% concentration of antioxidant Vitamin C.
+ Revive tired, lacklustre eyes with MZ Skin Soothe & Smooth Hyaluronic Brightening Eye Complex, clinically proven to reduce dark circles and fine lines.
+ Amanda Harrington's Gradual Radiance Duo is the secret to unlocking the perfect glow, providing a gradual natural looking tan while boosting firmness and elasticity throughout the body.
+ Use the £50 Ruuby Voucher towards luxury beauty services of your choice at home! (UK only; Manchester, London, The Cotswolds)
+ Take a much-needed moment to yourself with The White Company's Nourish Bath Soak, formulated with natural oils to help skin feel moisturised and hydrated.
+ Sit back and relax as Sana Jardin's vegan, 100% vegetable wax Berber Blonde Scented Candle fills your home with the scent of orange blossom, neroli and musk.
DR. MARYAM ZAMANI
FOUNDER & CEO
"I am thrilled to celebrate women's successes, as a daughter of a fierce mother who shattered many glass ceilings! I applaud the next generation of even stronger women to bring greater equality and strength. In support of International Women's Day we have created a beautiful collection with a few fabulous, local women who inspire and continue paving the foundation for unified strength everywhere."
CHRISSIE RUCKER, OBE
FOUNDER
"The young women we help have often faced enormous challenges – everything from domestic violence and long-term unemployment to bullying, homelessness or simply having no emotional support at home. Yet it's amazing to see what they go on to achieve with a little bit of the right help and support at the right time. If every single one of us could commit to changing one vulnerable woman's life, just think what an incredible difference we could make."
AMANDA HARRINGTON
FOUNDER & CEO
"I am incredibly grateful to be sitting alongside such an inspirational group of women within this collaboration. Celebrating female entrepreneurs is key to empowering the next generation of young women with big ideas. We must support them as we support each other."
VENETIA ARCHER
FOUNDER
"Ruuby is delighted to partner with an inspiring group of female-run brands in aid of the Prince's Trust's game changing #ChangeAGirlsLife campaign. Female empowerment is at the core of our mission at Ruuby, and it is an honour to support."
AMY CHRISTIANSEN
FOUNDER & CEO
"We are so honoured to be collaborating with MZ SKIN this year on International Women's Day ✨ As a strong believer in female empowerment, I am truly grateful to be surrounded by women who inspire and shine light across women." 
To read more about International Women's Day – click here.