Our Icon, in focus: Soothe & Smooth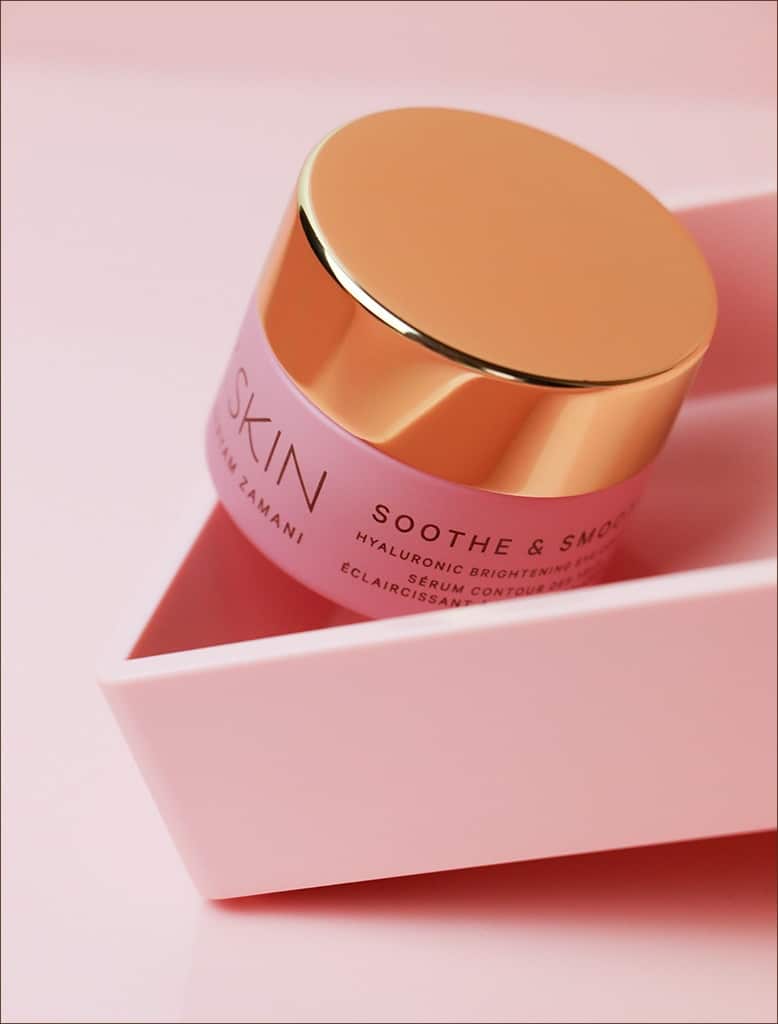 MZ Skin was conceived from a desire to make a precise, concise, intelligent capsule collection of scientifically backed, clinically trialled skincare that is easy to use but also has a gorgeous sensory component to it. Dr Zamani does not believe we need lots of different products but rather specific, efficacious ingredients that work synergistically together.
How did Dr. Zamani first enter into the beauty industry?
After completing ophthalmology training and relocating to London she decided to embark on an oculoplastic and reconstructive surgery fellowship to gain greater experience and training. That begun her interest in hyaluronic acid fillers, research into their aesthetic and reconstructive purposes. There after she did a Dermatology Course with Cardiff University followed by a second oculoplastic fellowship focusing on eyelid and facial surgery.
"I wanted to combine the surgical with the non-surgical but quickly realized skin is the canvas and without a strong canvas, results are not optimal. It's been a long but very interesting and rewarding road developing MZ Skin to help create that strong canvas and foundation to maintain and attain one's best skin and aesthetic at any age".
MZ Skin's Soothe & Smooth
Introducing our Icon; Soothe & Smooth Hyaluronic Brightening Eye Complex
Clinically proven to reduce dark circles and wrinkle depth in 30 days
Provides long-lasting hydration with a 22% increase in moisturisation
Ophthalmologically tested to prevent irritation around the eye
Blurs imperfections and brightens
A firming eye cream that contains a tripeptide to stimulate collagen and elastin. Albizia Bark Extract detoxifies and strengthens capillaries, reducing dark circles and puffiness. Hyaluronic Acid and Ceramides restore moisture and plump and smooth fine lines. Provides long-lasting hydration to smooth fine lines and restore suppleness around the eye.
MZ Skin's Soothe & Smooth ingredients in detail…
Albizia Julibrissin Bark Extract: Helps lift, repair and revive skin, reduces pigmentation and puffiness
Kahai oil: Rich in nourishing essential fatty acid, potent Vitamin A, Vitamin E helps boost the skins natural renewal process to rebuild and replenish
Growth Factors: Aid in tissue repair to reduce the appearance of fine lines and wrinkles
Hyaluronic Acid: Helps smooth the surface of dry skin, improving the appearance of fine lines and wrinkles, hydrates, firms and protects collagen and helps with elastic production
Tripeptides: Known to stimulate cell growth and reduce depth of wrinkles while increasing skin thickness, increases cell cohesion in the vulnerable epidermis, providing long-term water retention
Ceramides: Helps to prevent water loss and improve elasticity
Are there any ingredients we should avoid? 
Yes, it is best to avoid fragrance, alcohols, retinols, and acids too close to the periorbital area.
At what point in my routine should I apply eye cream to ensure optimum absorption?
This is subject to great debate. Dr Zamani does recommend to place eye cream on first.
Creams for the periorbital area are preferable as they tend to be thicker than serums. These creams are specifically formulated with active ingredients aimed for this delicate area which help combat fatigue and signs of skin ageing. It is important to note that with the application of eye products, the biggest mistake people make is that they apply the product too aggressively or they do not use enough. Also, many people forget to use sunscreen which is very important as the periorbital area is very delicate and sensitive.  When treating the periorbital area, it is important to look for ingredients that have potent antioxidants which protect from free radical damage and promote collagen production.
Is there anything an eye cream cannot fix? (ie: genetic dark circles?)
Unfortunately, an eye cream cannot help dark circles caused from volume loss or from fat prolapse. It can also not help excess skin laxity.
There are many different aspects of periorbital ageing that are overlooked and must be considered. Of course, there are dynamic rhytides (or wrinkles) that are a direct consequence of emotion; however, with proper skincare, we can slow the rate of rhytide formation, keeping a rejuvenated and more youthful appearance for longer. With all of this in mind, the answer to a more youthful complexion may not lie in simply focussing on the age lines, but rather on creating a more radiant and hydrated eye area. It is our goal to maintain healthy, radiant skin with proper skincare to reveal, enhance and protect the face and the area around the eye. The more hydrated the skin, the less vulnerable we are to the signs of ageing. This is why we formulated MZ Skin Soothe & Smooth Hyaluronic Brightening Eye Complex.
All individuals over 20 can benefit from eye cream such as this.
Given the delicate and thin nature of the periorbital area, eye creams are formulated with better penetration of actives and retention of hydration for this area.
How can you get rid of dark circles fast?
Dark circles are different from puffy eyes. Dr Zamani says "cooling this area to vasoconstrict tortuous blood vessels is ideal. Again, hydration is important. Drink plenty of fluids in the morning. If there is time, an MZ Skin Eye Mask will help hydrate and soothe the skin. Eye creams again with specific ingredients can help maintain bright lower eyelids. As mentioned above, MZ Skin Soothe and Smooth has Albizia Bark Extract to help detoxify and reduce lower eyelid darkness.
We hope you love our icon as much as we do!