What are the true benefits of after sun care?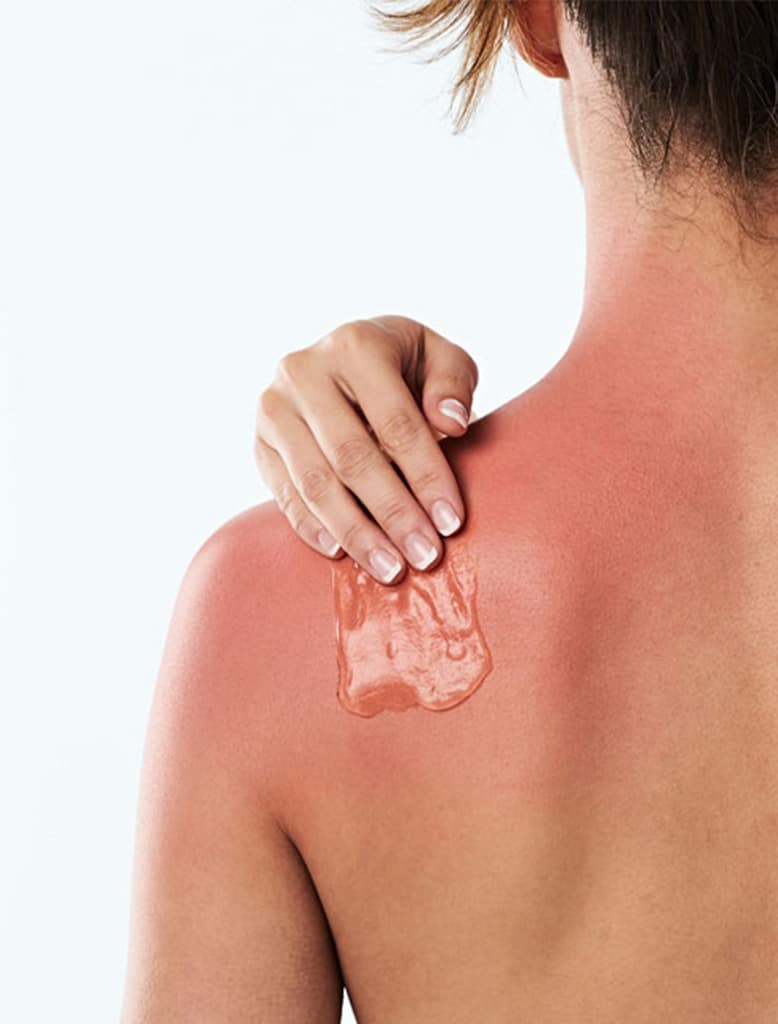 It is peak Summer months in the Northern hemisphere and the temptation to stay in the sun longer than we should is a hard one to fight! Some of us may be left feeling the prickly heat on our skin for some time afterwards and wonder if after sun is cooling and soothing enough to actually reverse any skin damage caused.
Here we investigate the true benefits of after sun and what ingredients are known best for their anti-inflammatory properties.
Why does a sunburn happen?
A sunburn happens when the sun's ultraviolet radiation damages the DNA inside skin cells. As a result, those cells die in a process known as apoptosis. This excessive damage and death prompts the immune system to release a flood of inflammatory proteins and blood to the area. In the process, the outer skin becomes hot, irritated, and red.
Can I fix sun damage with after sun?
One thing to remember is that you can't completely fix the damage the sun causes to your skin. "You can, however, try to increase the DNA damage removal and repair, and try to make the skin look and feel better, which is most people's primary concern," Dr. Zamani says.
"The longer the heat from sunburnt skin is ignored, the longer the inflammatory proteins from it create a greater depth of damage to the skin layers, so the use of aftersun is completely valid."
Of course, avoiding sun burn in the first place is paramount and sunburn can still happen despite using sunscreen and this is usually because one has not used enough SPF, or not re-applied as often as required. The recommended amount is one tablespoon, per limb, every 4 hours.
What's the first thing you should do when you notice sunburn, are there any quick fixes?
As discussed, the best treatment is prevention. If you do get caught out, here are the best immediate remedies.
Take cool shower or bath to relieve pain and do not rub the skin dry, best to keep a bit of moisture in the skin.
If necessary, Ibuprofen or aspirin can help reduce swelling and discomfort.
Drink plenty of water to prevent dehydration.
If you experience blistering, do NOT pop the blisters but let them heal on their own.
Apply hydrating and soothing moisturisers that are free from fragrance and not too rich or emollient.
What ingredients should I look for to help with sun damage?
Aloe Vera
Aloe vera is touted as the plant to look for. As Healthline reports, it has been used as a skin remedy for thousands of years. Aside from a few older studies into aloe vera's healing and anti-inflammatory properties, there isn't much recent scientific evidence to prove the plant's medicinal benefits. But plenty of people swear by it.
You can apply pure aloe vera gel to sunburnt skin. Alternatively, look for an aftersun containing it.
Vitamin E (tocopherol acetate)
Look for products rich in vitamin E as it works wonderfully as an after sun to treat sunburns. Being an antioxidant, it will help fight free radicals caused by ultraviolet radiation, ultimately soothing sunburns. Scientifically, the topical application of tocopherol acetate (TA) immediately after UVB exposure decreased inflammatory cell changes caused by sunlight.
MZ Skin's Vitamin Infused Red Mask encapsulates a combination of soothing antioxidants and brighteners such as Aloe Leaf, Liquorice Extract, and Vitamins C and E to reduce inflammation caused by excess sun exposure. Hyaluronic Acid acts like a sponge to attract and retain moisture in the skin helping to heal a sunburn.
Soy or Oatmeal
Oatmeal is another classic sunburn treatment that the experts still recommend. Green calls oatmeal "a great product for sunburn," and says that you can also mix it with cold milk as a compress to soothe sunburned skin. Dr. Zamani agrees, specifically suggesting soy milk, because it "is a natural anti-inflammatory and soothes the skin post-sun exposure." After you combine the oatmeal and milk, just put the paste on some gauze and apply gently to your sunburn. "The oatmeal's antioxidant and anti-inflammatory properties prevents itching, which makes it great for applying on sunburns."
Hyaluronic Acid
Hyaluronic Acid is recommended as it works well to retain moisture and prevent water loss through the compromised skin. Moisturise three to four times a day: Essentially, the more moist, the quicker the healing.
MZ Skin's Anti-Pollution Mist is perfect to spritz over the complexion and hard to reach areas throughout the day. Anti-stress hydrators, vitamins and minerals work together to calm redness. Apply straight from the fridge for an extra cooling effect.
For overnight repair, MZ Skin Rest & Revive Serum contains an innovative blend of ovine placenta and stem cells combined with peptides and Hyaluronic Acid to detoxify, strengthen and repair the skin during its nightly rejuvenation.
Vitamin C (ascorbic acid)
It has also been proven that the combination of vitamins C and E reduces a sunburn reaction, which might indicate a consequent reduced risk for UV-induced skin damage.
MZ Skin's Brighten & Perfect 10% Vitamin C Corrective Serum can help activate collagen production, protect against premature aging and reduce the effects of sun damage. This peptide-rich formula helps control melanin production to guard against hyperpigmentation and age spots. Perfect for post summer holidays fight against pigmentation.
In conclusion, there are certain ingredients to look for to help prevent longer term skin damage caused by UV exposure.