The MZ Skin Perfect Gift Guide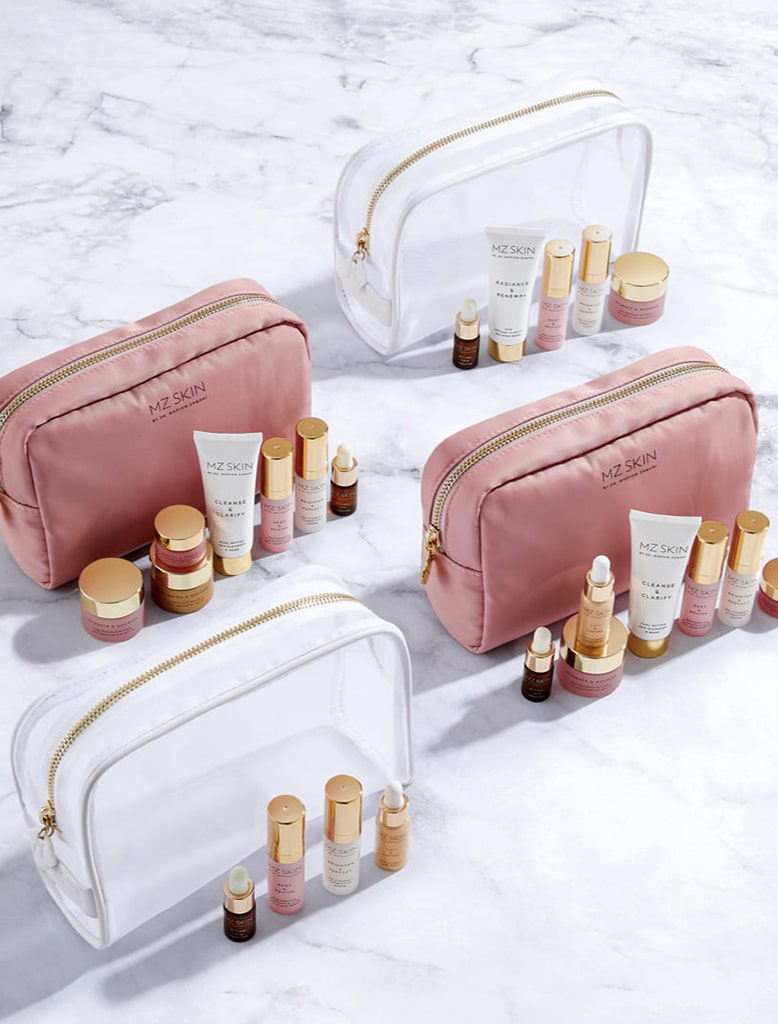 As the season of spreading joy fast approaches, we're on hand to help you find the perfect gift, for that special someone. Whether they be a seasoned MZ Skin lover, or new to a beauty regime, we have thought of them and have you covered.
Below is our gift guide, all carefully curated with complimentary products for that #MZSKINglow.
To spread even more cheer, there's also an option at checkout to make it extra special with our beautiful gift boxes.
For the beauty aficionado
There's one thing they need in their arsenal and that's the LightMAX Supercharged LED 2.0. Launched in October this year, and already sold out, twice (!) we can be sure they'll love it too.
Boasting medical grade technology, and clinically proven to deliver in-clinic results this at-home beauty device is suitable for anyone, of any age. Whether acne or premature ageing is a concern, just 10 minutes a day, 4 times a week is all it takes to fight bacteria and reduce wrinkles via 2 light settings.
For the one who has everything
Why not treat them to our Tone & Lift Facial Roller?
Driven by innovation, this facial roller utilizes forward-thinking technology for skin that is revived, toned, and improved lymphatic drainage. The device is made with germanium, a key ingredient in activating and balancing the positive and negative ions responsible for ageing, simultaneously defending skin from surrounding environmental aggressors. Its added acupressure pods apply light pressure to stimulate the body's natural self-curative abilities, resulting in skin that is less puffy, more even-toned and definitively radiant. A perfect stocking filler too!
For the Beauty newcomer
"Keep it simple but be consistent" advises Zamani. Great advice for anyone seeking their perfect regime. Based on the MZ Skin principles of Reveal. Enhance. Protect this quick 3-step regime does exactly that and promises clean, radiant, healthy skin.
Cleanse & Clarify Dual Action AHA Cleanser formulated with a blend of Alpha Hydroxy Acids and Fruit Enzymes to cleanse and exfoliate without irritation for a refined skin texture. The perfect prep to reveal smoother, brighter, and more radiant skin.
Hydra Bright Eye Masks – loved by Ellie Goulding and make up artists alike! Used straight form the fridge they'll give an extra cooling effect.
Lift & Lustre Golden Elixir Antioxidant Serum has a high concentration of Plant Stem Cells to fight free radicals. With light reflecting pigments it is also formulated to give instant radiance and can be pressed into the skin under or over make up to the high points of the face such as top of the cheekbones, or bridge of the nose.
For the Summer traveler
Help keep their skin radiant and protected from any lasting UV damage wih these suggested gifts.
Brighten & Perfect 10% Vitamin C Corrective Serum is formulated to activate collagen production, protects against premature ageing, and reduce the effects of UVA, and UVB rays. This peptide-rich formula helps control melanin production to guard against hyperpigmentation and age spots. Perfect too for a post summer fight against pigmentation.
Retinol Skin Booster is formulated as a lightweight night serum. It utilises the skin-renewing power of retinol to re-build, smooth and repair the skin's surface. Encapsulation helps target skin cells where it would provide most benefit and enhances skin penetration. Not suitable for those who are pregnant.
Or, for their next vacation why not treat them to our brand new travel sets for ultra-convenience.
For the homebody
This little trio of gifts will help create the perfect at-home spa for an indulgent self-care Sunday. Run a bath, pour a preferred beverage and relax…
Radiance & Renewal AHA Refining Mask deeply exfoliates to help clear congested skin.  A 8.5% concentrate fruit acid complex stimulates cell turnover, refines pores and helps to eliminate pigmentation.  Coupled with our Mask Brush for an even, and mess free application.
Keep hair out the way and feel comforted by our teddy cloth Spa Headband – enjoy!
For the beauty sleeper
Make their 8 hours sleep work even harder! Rest & Revive Night Serum contains an innovative blend of ovine placenta and stem cells combined with peptides to detoxify, strengthen and repair the skin during its nightly rejuvenation. Stimulate collagen and elastin, replenish moisture to plump and smooth fine lines and wrinkles. Results in revived, hydrated skin and an even skin tone.
For an added boost, layer Retinol Skin Booster over the top to re-build, smooth and repair the skin's surface overnight.
For the gym bunny
Perfect pre and post workout our Anti-Pollution Mist provides a hydrating shield and instantly refreshes the skin, and senses. Performance-proven antioxidants and amino acids boost the skin's natural barrier function for increased resilience over time. Anti-stress hydrators, vitamins and minerals work together to calm redness, refine pores and energise the complexion, so skin is bright, balanced and comforted from the first spritz.
Sculpt your body, then why not your face! Gua Sha is designed specifically to enhance your facial contours and promote well-being. This traditional Chinese technique improves blood circulation, reduces puffiness and reduces the appearance of fine lines and wrinkles.
Still not sure? Please feel free to contact us at customerservice@mzskin.com and we'll be more than happy to assist. Alternatively, why not let them decide with an MZ Skin Digital Gift Card?